Inspire Scholarship 2020-  Scholarship for Higher Education (SHE), Scheme for Early Attraction of Talent (SEATS), Assured Opportunity for Research Careers (AORC): The Department of Science & Technology provides scholarships every year to students studying in courses such as VI to XII, UG/PG  and PhD/ Post PhD. Whereas, INSPIRE stands for "Innovation in Science Pursuit for Inspired Research" and its aim is the attraction of talent to science.
In brief, the main objective of this scholarship is to engage the youth of the country with excitements of creative pursuit of science. The Inspire scholarship also attracts talent to study of science at an early age to various level of education. Consequently, it will build the required human resources to strengthen and expanding of Science & Technology.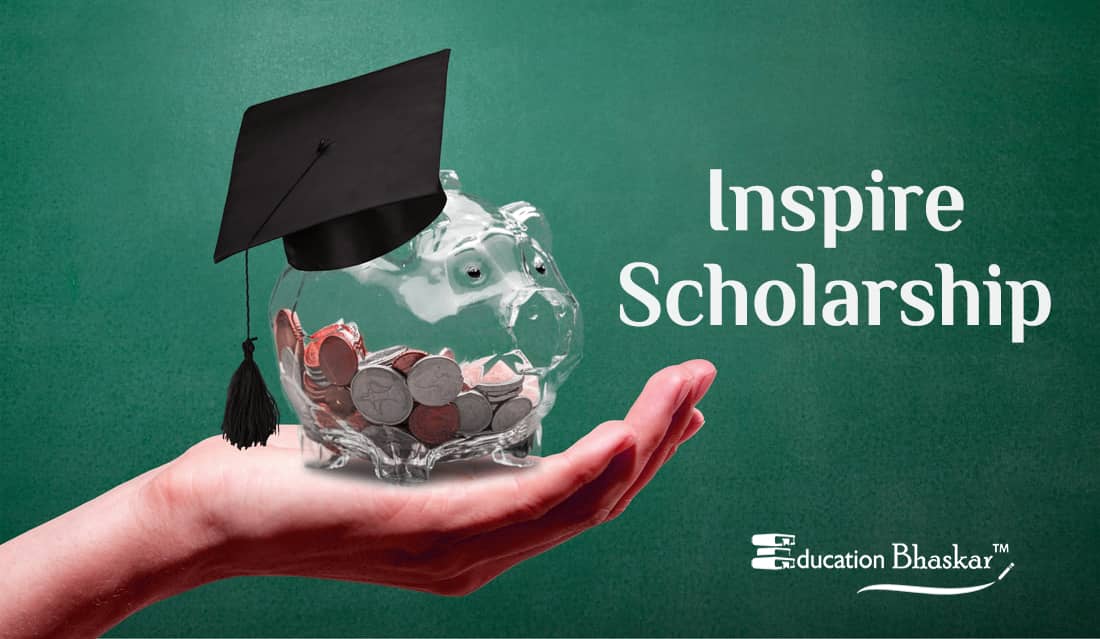 Although, to apply for this scholarship every candidate has to fulfil some eligibility conditions. Overall, here you will able to check, Eligibility criteria, Key dates to apply, Amount of research, Application form, How to Apply and Renewal process of Inspire Scholarship. Also Check: MOMA Scholarship 2020
Inspire Scholarship 2020- An Overview
| | |
| --- | --- |
| Name of Scholarships | Inspire Scholarship |
| Provided by | Department of Science and Technology [DST], Government of India |
| Levels | SEATS, SHE & AORC |
| Qualification | Students of 6th to 12th, Graduation or Postgraduation, PhD pursuing Science Majors |
| Reward | Maximum available scholarship of Rs. 80,000/- |
| Official Website | www.indiascienceandtechnology.gov.in |
In general, the Inspire scheme is divided into three levels such as SEATS, SHE and AORC. Subsequently, the detailed information of all three types is given below.
1. SEATS: Scheme for Early Attraction of Talent
The SEATS also divided into two categories:
Inspire Awards: The amount of Rs 10,000 is especially paid to 1,00,000 students who are studying in class 6th to 10th having age 10 to 15 years.
Inspire Internship: Accordingly, a Summer Camp is provided with global leaders to 50,000 students who are studying in class +1 (Science Stream) to joy innovations.
2. SHE: Scholarship for Higher Education
Similarly, this Higher Education scheme provides Rs 80,000/year to 10,000 students of the age group of 17-22 years. Accordingly, students who are pursuing Bachelor/ Master level education can apply for this scheme.
3. AORC: Assured Opportunity for Research Careers
Inspire Fellowship: Accordingly, it offers 1000 fellowships every year to students of the age group of 22-27 years. Particularly, students who are participating in a Doctoral Degree (PhD) programme are eligible for this fellowship.
Inspire Faculty Award: It offers assured opportunity every year especially for 1000 Post-Doctoral researchers with the amount of 7 Lakh/year for the duration of 5 years. Thus, the applicants of the age group 27-32 years can avail this faculty award.
Important Key Dates
Particular
Last Date
Inspire Award (VI to X Class)
August 2020
Inspire Internship (XI Class)
September 2020
For Higher
Education (UG/ PG)
December 2020
Inspire Fellowship
(PhD/ MPhil)
November 2020
Inspire Faculty Award
(Post PhD)
August 2020
Due to the Coronavirus Crisis, the schedule may be postponed. Generally, the online registration for Inspire Fellowship starts in October and available up to November. The Scholarship for Higher Education might available from November to December 2020.
Eligibility Criteria
To apply for this scheme the candidate has to fulfil following eligibility conditions.
1. Inspire Awards (Class VI to X)
In order to apply for this award, the candidate should be in the age group of 10-15 years and studying in Class VI to X.
2. Inspire Internship (Class XI)
Firstly, the candidate should be studying in class XI (Science Stream) in State/ Central, Govt/Private schools.
After then, the applicant should be in the top 1% ranking in their 10th Board Examination.
The applicant should not have attended a similar camp earlier.
At last, it is mandatory for the applicant participating in Summer Camp to be of the same state.
3. Scholarship for Higher Education (UG/PG)
Firstly, the candidate should be in the age group of 17-22 years and passed Class XII in the year 2020 from various recognised Indian State and Central Boards.
The applicant should be studying regular courses in Natural & Basic science three years B.Sc., B.Sc. (Hons), four-year B.S and five years integrated M.Sc./M.S. program in any UGC recognized College/ University/ Institution in India.
The applicant percentage marks at Class XII level should be in the top 1% of the State or Central Board Examination.
Candidates Also Eligible:
Students who are within top 10,000 ranks in JEE (Main & Advanced)/ AIPMT or NEET and presently pursuing B.Sc/ BS or Int. M.Sc/MS in Natural and Basic Science across India.
Students who are selected in Kishore Vaigyanik Protsahan Yojana (KVPY) Fellows, National Talent Search Examination (NTSE) Scholars, International Olympiad Medalists and Jagadis Bose National Science Talent Search (JBNSTS) Scholars.
Moreover, students who are pursuing Master Level courses in Basic & Natural Sciences at IITs, IISERs, NISER and Department of Atomic Energy Centre of Basic Science.
List of Eligible Subjects
The following subjects under Basic and Natural Sciences are within the scope of INSPIRE Scheme for pursuing B.Sc/B.S/Int M.Sc/Int M.S course:
Subjects Under Basic and Natural Sciences
Physics
Chemistry
Mathematics
Biology
Statistics
Geology
Astrophysics
Astronomy
Electronics
Botany
Zoology
Biochemistry
Anthropology
Microbiology
Geophysics
Geochemistry
Atmospheric Sciences
Oceanic Sciences.
Note: Courses other than these subjects are not eligible for the Higher Education Scholarship (SHE) scheme.
4. Inspire Fellowship (PhD)
Firstly, the applicant should be a citizen of India and falling in the age group of 22-27 years.
After then, He/She should study their post-graduation in  Basic & Applied Sciences/ Engineering/ Medicine/ Pharmacy/ Agricultural Sciences/ Veterinary Sciences from any recognized University/Institute.
Specifically, He/She should 1st Rank Holder at University level.
Applicant should contain at least 70% marks in aggregate or equivalent CGPA at M.Sc. or Integrated M.S. / M.Sc.
1st Rank Holders at the Graduate/Post-graduate Level Examination in Medicine are also eligible.
Note: However, Students who are i) 1st Rank Holder in College including Autonomous College Examination, ii) obtained degree (s) through Distance Education Mode and iii) 1st Rank Holder in any specialization given at M.Sc. 2nd/ last Year, are not eligible.
5. Inspire Faculty Award (Post-PhD)
Particularly, a citizen of India/ NRI/ PIO whose age limit on 1st January of Year of Advertisement should be in between 27-32 years. (SC/ST 27-35 years).
After then, the applicant should be holding a PhD degree in one of the following subjects. Such as Science, Mathematics, Engineering, Pharmacy, Medicine and Agriculture-related subjects from any recognized university in the world.
At last, the candidate should possess a minimum 60% marks (or equivalent CGPA) throughout academic profile from Higher Secondary Examination.
Candidate Also Eligible:
Those who have submitted PhD theses and are awaiting award of the degree can also apply.
Those have Publication(s) in highly reputed journals demonstrating the research potential of the candidate can also apply.
Moreover, candidates who are employed in regular/contractual position within India may apply for INSPIRE Faculty Fellowship. But upon selection, the candidate needs to resign from the current job and organization for implementation of INSPIRE Faculty Fellowship.
Inspire Scholarship Amount
Type
No of Seats
Amount (Rs)
Inspire Award
1,00,000
INR 10,000
Inspire Internship
50,000
Summer Camp
Scholarship UG/PG
10,000
INR 80,000/Year
Inspire Fellowship
1000
INR 31,000/Month
& INR 20,000/Year
Inspire Faculty Award
1000
INR 7 Lakh/Year
After the selection, the following amount of scholarship is directly credited to the bank account of the candidate by Direct Beneficiary Transfer.
Tenure of Inspire Scholarship
Type
Tenure
Inspire Award
Yearly
Inspire Internship
Yearly
Scholarship for Higher Education
Entire Course
Maximum 5 Years
Inspire Fellowship
5 Years
Inspire Faculty Award
5 Years
How to Apply
In order to apply online candidates have to visit the official website online-inspire.gov.in/. Whereas, the official website is managed by the Department of Science and Technology, Ministry of India.
Step 1: Registration
Firstly, the candidate has to Register themselves on the official website online-inspire.gov.in/.
So, Register yourself as "New User", where you have to enter your basic details such as Name, Mobile No, Bank details etc.
At last, a popup will show you User Name & Password. (Note down it)
Step 2: Enter your Personal/Academic Details
Thereupon, Log in to the portal by entering the User Name and the registered password and follow the link as "Scholarship >> Apply for Scholarship".
The application form will be opened, where you have to enter your all details such as personal and educational details.
Step 3: Upload Photograph/Documents
So, here you have to upload Passport Size Photograph, Community/Caste Certificate, Mark Sheets,
Also, upload Certificate specifying Rank or Award in JEE (Main)/ JEE (Advanced)/ NEET/ KVPY /JBNSTS/ NTSE / International Olympic Medallists (If any).
Endorsement Form signed by the Principal/ Director/ Registrar of the College/ Institute/ University is also needed.
Step 4: At last, Declaration & Final Submit
Thereupon, you have to tick the "Yes/No" box as you are not availing any other scholarship.
Also, tick the declaration button which specifies all the information submitted by you is true.
Then, Enter Place, Date and Verification Code (Captcha).
At last, hit the submit button to complete the application submission process.
By following these simple steps candidate can apply for this scheme. But, before applying online candidate must ensure their eligibility.
Interested in International Student? Read Now
Helpline/ Contact Details
For any kind of query, candidates can contact either by Phone No or Email.
Phone No: +91-9643339670, +91-7290045884
Email Id: [email protected]
Official Website: online-inspire.gov.in/
Contact by Email
Candidate can also contact through by email. Query through Email must include the following prefix to mention the type of scholarship.
| | |
| --- | --- |
| Prefix | Schemes |
| INTERNSHIP | Internship Program |
| SHE | Scholarship for Higher Education Program |
| FELLOWSHIP | Fellowship Program |
| FACULTY | Faculty Program |
| GENERAL | At last, Any General query about Schemes |
Your Email Subject Must be In the Format, For example, email subject: [INTERNSHIP] – Question/Query that you would like to ask.
Moreover, if not in this format no reply has been made by the department.
Official Address
Inspire Programme Division
Department of Science and Technology,
Technology Bhavan, New Mehrauli Road,
New Delhi- 110016
In conclusion, the Inspire Scholarship will provide a strong foundation for the development of Science & Technology. Hence, those candidates who are looking for their career in the field of Science and technology can apply for this Inspire Scholarship.
If you like this information, Share it with your friends. For any query/suggestion leave a comment below.