Thus, the PTE Academic exam is the ideal test for someone to take who wishes to study abroad without any significant obstacles coming in the way. This is especially true in the context of New Zealand, where the very fact that it is accepted as a viable measure of one's English-speaking skills by Immigration New Zealand (INZ) should prove beyond a shadow of a doubt that the PTE Academic test is an excellent option to open up one's educational prospects in The Land of the Long White Cloud.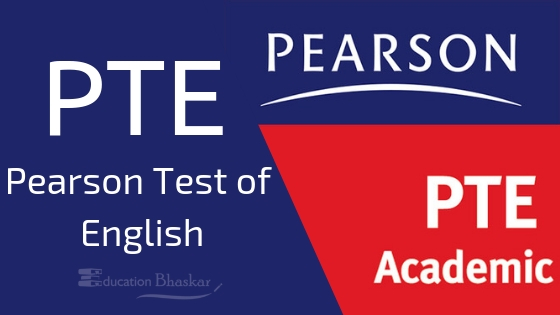 PTE Academic Exam- An Overview:
PTE stands for the Pearson Test of English. It is a computer-based academic test for the English language aimed at non-native English speakers wanting to study abroad. It tests Reading, Writing, Listening and Speaking.  It is the globally accepted English test for study abroad and immigration.
 Pearson Test of English (PTE) Academic Exam –  News, Online Applications, Results
Name of Organization
Pearson Inc.
Name of Test
Pearson Test of English (PTE)
Admission Form Status
To be notified
Eligibility
Age must be at least 16 years
Exam Date
There are no fixed dates for the PTE Academic test, as the test is available throughout the year.
Features

Flexible test, Fast results, 100% fair and secure computer-based marking, multiple test centre locations, accepted for visas accepted for study applications by universities, accepted by professional associations

Official Website
www.pearson.com
Eligibility
To take the PTE Academic test, you must be at least 16 years old. If you are 16 or 17 years old, you get a parental consent form signed by either parents or guardians before taking the test.
PTE Academic Exam Pattern
The Pearson Test of English Academic comprises 3 sections: i) Speaking & Writing ii) Reading and iii) Listening.
Here is the detailed paper pattern:
Section 
Duration 
PTE Academic 
Speaking & Writing
77 – 93 minutes

Personal Introduction
Read Aloud
Repeat sentence
Describe image
Re-tell lecture
Answer short question
Summarise written text
Essay (20mins)

Reading
32 – 41 minutes

Fill in the blanks
Multiple choice questions
Re-order paragraphs
Fill in the blanks
A 10-minute break is optional

Listening
45 – 57 minutes

Summarise spoken text
Multiple choice questions
Fill the blanks
Highlight the correct summary
Multiple choices, choose a single answer
Select missing word
Highlight incorrect words
Write from dictation
How To Register or apply for PTE Academic
Here is the step to step guide for applying online:
Firstly, go to the official website of the PTE Academic and click on the button labelled with 'Create your account'.
Fill the application form and fill the required details as on passport and submit.
After successful registration, an email will be sent to your email address with your login credentials.
Log in to your account and click on the link labelled with 'Schedule Exam'.
Select your desired centre for test and suitable time and date.
After confirming your date, time and centre location, you need to answer a few questions.
After that, pay the fees.
You will receive the email containing centre location and timing of exam with instructions.
Results and Scores in PTE Academic
After the completion of your PTE Academic exam, you will receive PTE Academic scores for each for the skill sections on a band range of 10 – 90. Along with that, you will also get an overall score. See the scoring pattern below to understand what does each range of score means –
Features:
Fast results: Results are typically available within five business days.

Flexible test: Testing globally over 360 days of the year in over 200 test centres around the world.
Real life language: Based on the real-life English skills test takers need to communicate effectively in their destination, using academically relevant tasks and measuring skills in an integrated way.
Fair & secure: 100% computer-based marking ensures all test takers are scored impartially and accurately. To ensure test score validity, all test centres use state-of-the-art digital biometrics incorporating palm-scanning, digital signatures, secure paperless results, randomized test formats and CCTV.
Test centre location: Test sessions are run in over 50 countries around the world.
Unlimited: Test takers can send their scores to as many institutions as they like, without an additional fee.
Accepted for Visas: Approved for all Australian and New Zealand student visa and migration applications.
University acceptance: Accepted for study applications by thousands of academic programs around the world.

Accepted by professional associations: Accepted by an increasing number of professional associations around the world for registration and assessment.
Why the PTE Academic test is the best exam to take for people who aspire to study in New Zealand
All of us at some point in time have thought of studying overseas and attaining that degree from a fancy foreign university. The thought indeed is very appealing, because as students we always want to explore new arenas and a unique learning environment. Not only this there is a sheer number of benefits that come with it. Once you go to study abroad, the number of options in your career open up and how. Everything from the vast wealth of experience that you accumulate to the number of possibilities that are opened up for you are nothing short of immense and should not be missed out on in the slightest.
One of the locales where you can enjoy these options and experience a rich education utilising New Zealand. Unlike the other countries where people tend to migrate for educational purposes, the cost of living and the education expenses in the Land of the Kiwis is comparatively lower. This improves the accessibility for students who wish to explore their international options while keeping their financial constraints in mind. This funding requirement is further reduced if you obtain scholarships, making the prospect of studying in New Zealand all the more tempting for the masses.
However, it's during the process of applying for a college in New Zealand that you know about the challenges. You have to figure out a way to convince the educational institute in question that your English speaking, reading, writing, and listening skills are good enough to ensure that there are no barriers that might arise during your day-to-day communication.
Thus, the need to choose an English testing system that is universally recognised becomes the need of the hour, and it must be said that the Pearson Test of English (PTE) is an excellent course of action for you to take in this regard.
We say this because of several reasons, one the test which we are talking about is recognised across New Zealand. So, your dream country is pretty much sorted. Along with this, the PTE Academic test is also technologically advanced, utilizing the latest innovations to augment the testing process from the ground up.