Evolution of IT Infrastructure Library
IT Infrastructure Library is a framework that maintains best practices to deliver the dynamic IT support services. By these individuals and organizations able to deliver IT Service Management, that further supported by business vision, growth, cost-effective ITSM, and become the focal point of communication among the provider and End Users.
Further, ITSM supports businesses in achieving their vision and mission by utilizing the correct mix of people, technology and process. ITIL show the way that manages and deliver the IT services. Also, the ITIL best practices guide the digital technology and transformation.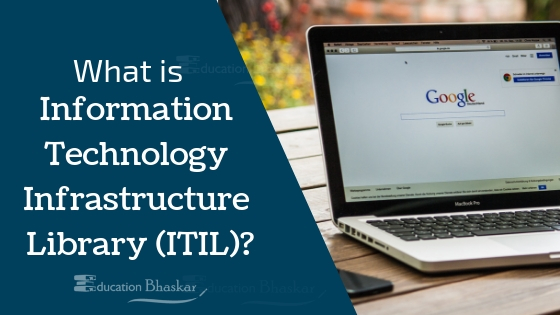 Mostly organizations embrace ITIL to get a faster understanding of their business benefits by enabling the suitable technology and by defining the processes. It aims for resource optimization and reviewing existing processes which are improving. Moreover, for an organization, it acts as a business partner and helps to adopt only relevant practices.
ITIL, after its establishment in 1980, has consistently improved in various editions. In the 1980s, IT Infrastructure Library was brought by the Central Government and the Telecom Agency (CCTA) of the British Government.
Within the decade, there were several revisions in ITIL that focused on business adjustment and better competence. In the year 1989, the first ITIL book was published and later pursued by Version 2 in 2000.
After that Version 3 came out in 2007, but another more updated variant V3 came in 2011. The newest edition of the ITIL book is supposed to be released later year, and it is required to cover the methodologies like Agile, lean, and DevOps.
Certification of ITIL
If you want to gain a better knowledge of ITIL, opting its certification is the best option. The certification is owned by Axelos. In the certification, there are five levels which are necessary for an applicant to clear; because these level specifically holds training content.
By opting the certification one can easily avail specialization in main ITIL areas and makes you certified professional. The ITIL certification consists of five levels, and among these levels ITIL Foundation Training is entry-level. It covers all the basics related to ITIL lifecycle, ITIL terminology.
The foundation level of ITIL certification covers all the basic elements, key concepts, and terminologies of IT Infrastructure Library service lifecycle and their use in service management practices.
The practitioner level is defined as the second level or steps in ITIL certification. One can only get access to practitioner level only when they clear the foundation level.
The practitioner level basically acts as a bridge between the foundation and intermediate level. Over this level IT specialists learn to adopt ITIL framework in their workplace.
Similarly, like above levels you need to clear first two levels then only you can get access to Intermediate level. Intermediate level includes two categories such as service lifecycle which holds five stages and service capability that further holds operational support, release control.
On this level, applicants will get a detailed knowledge of ITIL; specifically about various ITIL concepts. And it is mandatory to clear the ITIL foundation and intermediate level exams to access the expert level and test.
After learning the basic concepts, adoption, service lifecycle and detailed knowledge about ITIL at above four levels, an applicant reaches the master level. Master level demands applicant to practically implement the ITIL in their respective organization.
Let's begin with IT Infrastructure Library
The IT Infrastructure Library framework holds five stages that are part of the service lifecycle. Every stage retains functions or processes set which comes with IT organization structure
Among these processes, companies usually adopt few processes which suit the teams. So you can say that ITIL is flexible in terms of adoption. Further, here are the stages of ITIL service lifecycle.
Service Strategy: It helps organizations to develop strategies and set goals for the business, It further helps in satisfying the client priorities and requirements.
Service design: Usually this stage of  ITIL service lifecycle includes designing of infrastructure, service management processes, technology, and products.
Service Transition: This state mainly focuses on managing current states of service while deploying the new change in the organization. Moreover, it also helps in ensuring that all the risk and their impact must be in control so that there it will be no interference in an ongoing services
Service Operation: The following stage helps in making daily operational tasks constant and useful for observing infrastructure and related services with an application. By these businesses will able to satisfy the client priorities.
Constant Service Improvement: This stage focus on the quality check, mainly it aims for continuous improvement in the processes, and it almost occurs during the service lifecycle.
The key concept of IT Infrastructure Library
Usually, businesses implement new applications on a daily basis. It is necessary to analyze the impacts and risks before executing any planned activities. So, the identification of effects and risk helps in planning change approvals including with all related stakeholder.
Change management records all the details regarding the change that is required for better audit and tracking. In case, you want to establish the new implementation effectively; without downtime. Then, Change management will be essential for your organization.
These days, every business user hopes for smooth business processes without any disruption. But in the actual world, it's really challenging to implement the available infrastructure applications and components. The active approach towards an incident management system diverts the good amount of tickets, even it also mitigates the occurrence of the critical incident.
With the help of automation, it will be easier to handle the assigning and classification of tickets. It will help agents on service desk to put more focus on higher priority. Incident management of ITIL operates in close cooperation side by side with CMDB (Configuration Management System).
The team of Problem management manages repeated issues, team examine the main reason and discover a robust fix. Then, a problem manager solves the problem using analyses "Root Cause Analysis," and recommend a temporary fix until a robust solution gets deployed.
The problem management helps in preventing many companies from interruptions and ensure service that might cause potential damage to the company. It is advised to know the difference between problem and incident management to specify the proper tasks and duties.