The Master of Business Administration (MBA) degree was started in the late 19th century in the USA produce the sound management professional decorate with the basic and advanced knowledge to stand the business administration.
Now, the whole world is growing in the fields of marketing, financing, industrialization, and education. The Master of Business Administration programme has especially been designed for the administration of the industries or related field candidates.
What Actually MBA is?
MBA stands for Master of Business Administration, which is a post-graduate level degree which is specially designed to develop business-related fields, such as a career in management, accounting and marketing. MBA allows you to learn practical skills as well as theoretical skills that tell you how to manage, organize, lead as well as adapt to the variety of different business environments. In short, MBA can transform your raw potential into great opportunities.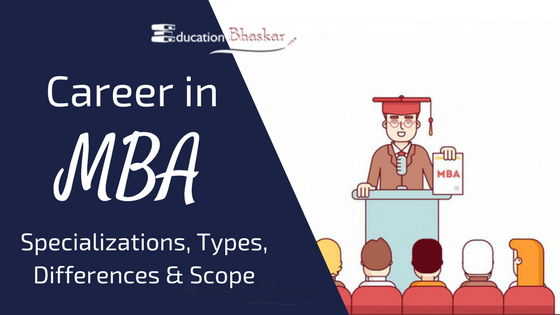 MBA programs come with various specializations such as accounting, human resources management, economics, marketing, and operations, as well as elective courses. Elective courses that allow candidates can choose according to their personal or professional interests. Today, MBA is the most popular internationally-recognized professional degree in the world. About 2,500 MBA programs available worldwide in various languages, majorly in English.
MBA Specializations/Degrees
Accounting
Human Resources Management
Finance
Marketing
Economics
Business Management
E-Business/E-Commerce
Entrepreneurship
Global Management
Information Systems
Operations Management
Strategic/Risk Management
Technology Management
Leadership Programs
PG Programs
Types of MBA
Full-time or Regular MBA
Executive MBA
Part-time MBA
Distance MBA
Online MBA Courses
Dual MBA Courses
MBA courses come in the broader kind of formats. The most common types of MBA courses are as follows:
Full-time or Regular MBA: As the name defines, full-time MBA, it's a program which typically requires two academic years of full-time classwork. Many universities offer this program in a daytime format, beginning in late August or early September of the first year and ending in May or June of the second year.
Executive MBA: This MBA program is often meant for individuals with roughly ten years of work experience in the business world. Coursework is designed to meet the needs of executives and managers and can prepare them for career advancement.
Part-time MBA: Part-time MBA programs are designed for working professionals. Classes take place during nights and weekends. This program may take three years or more to complete, depending on the chosen workload of the student.
Distance MBA Courses: An MBA program in which the course content can be imparted without your physical presence in a class.
Online MBA courses:  Online programs allow you balance your studies with your work and family responsibilities. Many schools offer online MBA degree programs, and we evaluated them according to several criteria in order to help you find the top schools.
Dual MBA: Dual MBA programs allow students to combine their MBA curriculum with another degree, such as a Master of Science or Master of Public Health. Many schools also offer 5-year combined Bachelor and MBA degree programs.
Scope of Distance MBA and Full-Time MBA
There is a lot of difference between the Distance MBA and Regular MBA. The teaching curriculum for both programmes is completely different. It's impossible for working professionals to join in regular MBA courses. They need to resign if they want to join a regular MBA. But, they can pursue a distance MBA without discontinuing their job. Distance education MBAs are valued at some organizations. In Government sectors distance education MBAs play a pivotal role in assigning the promotions. In private organizations, it depends on the management. Many reputed companies do not give consider distance MBAs to promote their employees.
From the last couple of years, distance MBAs are being replaced by online MBAs. The prestigious universities around the world are giving virtual training to their students. If you are already working in a reputed company, the distance MBA from a reputed university might boost your career. Virtual teaching allows you to directly interact with professors online. The students of such programmes get immense exposure to management concepts. These kind of MBA programmes are ideal for the employees.
There are many advantages of distance MBA programmes. The first thing is you can learn the subjects at your own pace. There is no compulsion from the professors or anyone. Students need not travel all the way to college every day to get an MBA degree. You can send the assignments whenever it is comfortable for you. Distance MBA fees are much lesser than that of a regular MBA. You don't miss your earning opportunity to pursue an MBA degree.
Working professionals might also opt for regular MBA programmes. It is not recommended to join any tier 2 or tier 3 universities for MBA. It's definitely not worth to quit the job to do an MBA from a tier 3 college. Many prestigious universities around the world ask for a one year or 2-year minimum working experience during the admission process. If you are a working professional and interested in a regular MBA, then you need to prepare for the entrance exams. The entrance exams for MBA colleges are pretty competitive. You need to allow some time every day to prepare for the exams. Top universities would love to give admission to working professionals. They believe that previous work experience would help the students to learn the managerial concepts very well in the universities.
Distance education MBAs can never replace a regular MBA. Regular MBA working professionals are preferred for promotions in reputed organizations. The main reason is a regular MBA holder will have a lot of practical exposure to managerial processes. They are very good at understanding the organizational structures. Distance MBA students lack networking capabilities. They do not possess concrete managerial skills. Regular MBA is a must to sharpen the managerial skills. Distance MBAs just give you an idea of the concepts. However, virtual learning from the top universities on the internet may boost your career considerably. There you can interact with the fellow students every day. You can discuss the doubts with the professors. They conduct peer to peer discussions regularly. It is just like an online version of their regular MBA program.
Distance MBA Vs Full-Time MBA
We have listed major differences between Distance MBA and Full-time MBA below:
Characteristic
Distance MBA
Full-Time MBA
Overview & Introduction
 An MBA program in which the course content can be imparted without your physical presence in a class.

An MBA program in which candidates are required to attend two academic years of full-time class work. 

Delivery of Program
Online. Some institutes send across study material through the post.
Classroom study with a tight and fixed schedule is the mode of program delivery in a full-time MBA program.
Curriculum
There is a crisp and concise curriculum in Distance MBA.
Theory and Practicals are both comprehensive in a 2-year full-time MBA program.
Principles of Teaching
There is a lot of flexibility in terms of exam schedule, selection of venue and online submission of assignments.
There is a very tight and strict schedule for assignment submission, exam dates and class participation.
Time Commitment
A distance MBA program could range from anywhere between 1-3 years with a good 1-2 years to complete the course.
The duration of a full-time MBA program is 2 years.
Fees
Fee is anywhere between Rs. 20000 to Rs. 1 lakh, which is much lesser than a full-time MBA program.
Comparatively, a full-time MBA program is quite expensive and can range anywhere between Rs. 14 to 30 lakh depending on the institute.
Intake Process
No fixed time period to seek admission into a Distance MBA program.
Since the number of seats is fixed, there is a lot of competition to get a seat in a full-time MBA program.
Admission Process
The admission process for Distance MBA is much more straightforward and user-friendly since a lot of applicants come in for admission owing to them being working professionals.
A complex and elaborate admission process is established to secure admission to full-time MBA. Entrance Exam, Group Discussion and Personal Interview are some of the rounds one has to go through to get selected in a full-time MBA program.
Exposure
There is no industrial or field visit involved in Distance MBA so the learning is restricted in the terms of exposure.
Industrial visits, factory visits, field visits are an important part of a full-time MBA program and is part of the curriculum.
Placement
This is a bit out of favour within the recruiter community. But now many advance distance education courses coming with the concept of an online classroom with live interaction with professors and other students. With the advancement of technology Distance MBA is going to gain favour from the recruiter community.

There is no placement process involved in distance MBA, and job search and job change need to be done on your own.

Full-time MBA is most preferred by recruiters or organizations

A placement process is conducted at the end of each final academic year, and students have the opportunity to get hired in the best of companies tied-up with the program.

Networking
Since it is online, there is no interaction between the students and faculty or even between the students themselves.
There is a continuous interaction between the students and faculty hence networking takes place on a large scale with students, guest faculty and other members which is an advantage.
Final Words
As a working professional, you need to take a decision according to your choice and interest. Need to make a choice! Both Full Time/Regular and distance MBA program have their own sets of pros and cons. In Regular MBA, you are required to quit the job whereas distance MBA doesn't guarantee a good career or job.
In case, you are a government sector working employee; then distance MBA is the best option for you as it is beneficial for promotion. Whereas many organizations select candidates on the basis of their quality of skills and clarity in vision, no matter how you have done MBA- regular or distance mode. The time when degree matters a lot is going to end. All the things an organisation prefer is your skills. So try to develop your skills. Good luck to you. Education Bhaskar team wishes you for a happy life.