If you are doing a Job, then probably you secretly wishing for a pay hike. But getting a pay hike needs a lot of hard work and promotions or you can take help from your educational degrees. However nowadays to get a pay hike or scoring a high paying job needs an MBA degree. Hence nowadays everyone is doing it, no matter if you are from IT sector, or read philosophy during your college days. MBA is a top priority in today's world.
However talking about eligibility for an MBA degree, In India, you have to have a 3-year bachelor's degree with minimum 50 percent marks. For SC/ST candidates, minimum 45 percent marks are necessary.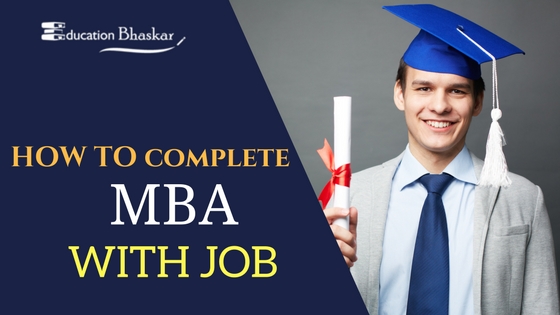 In addition to that If you are looking for some suitable colleges for an MBA degree, then you can check out the DistanceEducationHub website. Over here you will find a list of all the colleges where you can take admission for a distance MBA course.
If you are confused between Regular MBA and Distance MBA, then you can read our article here.
But the question remains, whether you should do an MBA with a job or not?
The Benefits Of Studying for an MBA with a job in India?
Become a Corporate Leader

A Satisfying Pay Cheque

Will connect lots of people

Increase in Professional Confidence

Will give you a career satisfaction
Well just to answer this question let us give you 5 reasons. So it will become an easy decision for you to make whether you should go with an MBA degree or not.
Become a Corporate Leader:
The main idea why everyone is doing or thinking about MBA is because it makes you enough qualified. It helps you to score the high-level management positions with ease. One without MBA needs to work hard for years to get to such position. But if you have an MBA degree, it will be an easy job for you.
According to a report, 70% of the MBA graduates worldwide are working as board directors or senior managers. Also, there are quite a lot of MBA graduates who have launched their startup and pretty much successful in their career.
So undoubtedly an MBA degree offers a massive boost to a graduates' career. Hence if you want to become a corporate leader, then MBA is something that you should do right away.
A Satisfying Pay Cheque:
With an MBA degree, you will not just get a high standard job. But it will also come with a high paying paycheque. According to some reports, it said that the average salary of an MBA graduate is higher than an employee with a regular job. In other words, you will easily be able to recover the MBA education investment after getting a job. Also, it will help you to satisfy all your needs without any issues. Even with such high paying job, you will easily get a loan from a bank.
Will Connect a lot of People:
MBA is a course which is taken by the future CEOS, MDS, future managers and so on. So when you will start attending the college or get into any distance MBA course, you will get to meets lots of people. Even it will also help you to create a strong connection with them. By connecting with other MBA students, you will be able to achieve a great productivity level. You will be able to learn from others and discuss your ideas. Also, who knows if you end up launching a startup along with any of the MBA student. Apart from the MBA students, you will also be able to connect with teachers and share some knowledge. Overall MBA will help you to achieve lots of things in a short period.
Increase your confidence:
An MBA degree offers you professional confidence. MBA trains a person to solve problems with ease. Hence it becomes easy for them to tackle all kind of challenges and situations that come their way. This way you will be able to get a fearless nature, and you will start believing in yourself eventually. Also while hiring most of the companies do give preference to the MBA students because of this confident nature. So do not stick with this question whether you should do an MBA or not. Instead, go for it.
Career Satisfaction:
In the end, MBA gives you a career satisfaction. When you have an MBA degree, you are a different person. There is nothing that can stop you to achieve your dream job. No matter if you are looking ahead to become a manager in a big company, or looking forward to starting a company on your own. You will easily be able to do so. Because Maybe teaches you every factor that you should learn to take things to a new level and have a great career ahead in your life.
So those were the top 5 Reasons to Do an MBA. Now go ahead and do some research on your own. Also if you have any questions, then feel free to comment below.