Recently, yoga guru Ramdev's company Patanjali has launched a messaging app named as Kimbho. According to company officials, Kimbho will give a very tough competition to most popular social messaging Whatsapp. It is a  is known with 'Desi/Swadeshi messaging application. The app can be downloaded from the Google Play Store as well as Apple Store. The tagline for Kimbho app is set as "Ab Bharat Bolega". People can make free voice and HD video calls. The App having many features like share text, photos, videos, audio, photos, quickies (readymade quick messages), location sharing, GIFs, and doodle etc. according to its description on the Google Play Store.
31 May 2018: Patanjali Khimbo App is taken down from Play Store. Patanjali officials claim that it was uploaded for testing purpose in beta version. The server went down due to high traffic, they added.
Kimbho meaning:
Kimbho is commonly used Sanskrit parley which is used to ask about someone's well-being. In Sanskrit, it is equivalent to 'What's up?' or can say 'Hello, how are you?'. For example, we use to say 'Kimbho bhaiya', which means how are you and what is happening, brother?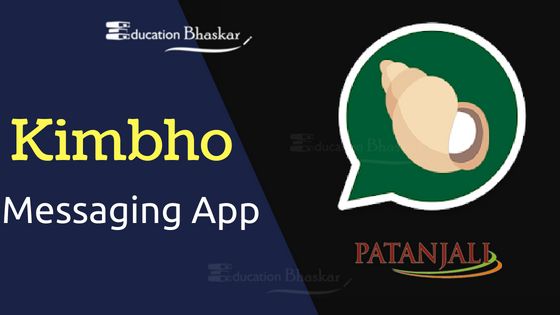 'Kimbho' Desi Messaging App – An Overview
App Name
Kimbho
Category
Communication
Developed by
Patanjali Communication
App Size
21 MB
Official Website
www.kimbho,com
Download App from Google Play Store (Removed from Play Store)
Download from Apple App Store
Kimbho App Features:
Real-Time Messaging: It is supporting real-time messaging service which is powered by advance socket technology.
Security: App having security features which ensure encrypted messaging by AES. It also supports ghost chatting, auto delete chatting, wipe out features.
Privacy: Users can block other users, leave or block conversation. Patanjali communication claims that they don't save data on their servers or cloud.
Quickies for single Click texting: Users can send quickies, which are message templates for quick messages and replies
Personalise: Users can make and use custom themes and wallpapers for the app.
Media file sharing: Users can share photos, video, photo, doodle, music files, sticker, gif, location, links, contacts and other files.
How to Download, Install & Use Kimbho App on your Smartphones?
Go to the Google Play Store or Apple Store on your smartphone. Type the word 'Kimbho' into the search box at the top of play store. You will find the app with the name 'Kimbho – Secure Chat, Free VoIP Video Calls'.
Click on the button label with 'Install' and then click on 'Accept' 

to give permissions required for application to run. It will automatically start to download.

Once done, it will show up the message – the download is complete, now 

open up the app.

After opening, it will show the message -' Tap to Continue'. Click on tap button.
On next screen, it will ask your mobile number for verification. OTP will be delivered given number.
successful verification, on next screen, you will be asked to fill your name and date of birth. you can add the photo after that.
Now you can start using the app by sending messages to your friends, relatives. Those friends who are are not on the app can be invited or you can send the text message through the app on their mobile number.
Now you have learned how to find and install the application on an iPhone and Android.
How to use
Kimbho App for Windows or Mac- How to Install App on your Laptop?
Currently, this app is not available for Windows or Mac. We will update you as it will be available on Laptops.