Initiated as a mammoth universal identification project by the Indian Government back in 2009, Aadhaar is now acclaimed as the world's largest biometric identification program. Earlier began as a test project in a few villages, this transformation swiftly expanded to include all Indians under the Multipurpose and Biometric National Identity Card project, enrolling 1.2 billion people (about 89% of India's population) under the UID network.
To make this transition legitimate, the Citizenship Act was also revised to give a constitutional endorsement to the Aadhar Card scheme. Did you know anyone who has been living for more than 182 days in India can get himself enrolled in Aadhar Card Network for the evidence of identity? Here, our team has compiled such lesser-known facts about Aadhar Card that every Indian should know.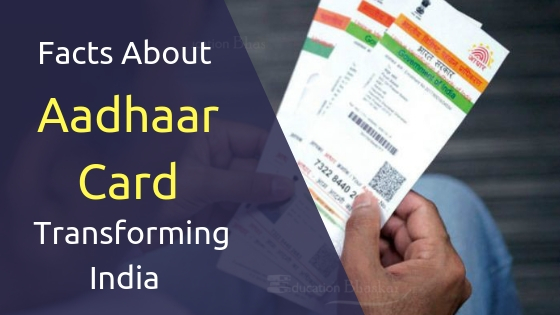 Before we start talking about those surprising facts, let us talk about the concept of Aadhar Card and what makes it a unique id:
Aadhar Card is basically a biographic and biometric data of Indian citizens that includes name, date of birth, gender, address, a photograph, and ten fingerprint and two iris scans. Apart from this biometric data, a unique 12-digit Aadhaar number is also printed on this card. The Aadhar Card is a not necessarily a citizenship card that is compulsory for all, but just a residential proof, but the state has made it mandatory in more than three dozen government schemes making it indispensable. The printed version of this unique number and biometric information is called Aadhaar Card, and the electronic version is called e-Aadhaar. Anyone can download Aadhaar Card from the official UIDAI website.
11 Facts About Aadhaar Card Transforming India You Should Know
In the Aadhaar Card, the unique identification number is the real identity and not the card. Hence it is verifiable online without having a printed copy of Aadhar Card.

In late 2017, it was reported that Facebook, is also exploring the possibilities for using Aadhaar as a medium of verification, but so far it hasn't been implemented due to government's approval hassles as it will make it highly vulnerable to the privacy breach.

In 2017, Aadhaar was officially declared as a 'Hindi Word Of The Year' by Oxford Dictionary.

Those who are not lucky enough to have good eyes for the iris scan such as individuals suffering from eye diseases -cataract, retina damage or blindness – can also enrol for Aadhaar card.

Aadhaar Card is not mandatory for every citizen, it is voluntary based, and anyone who wants to enrol himself voluntarily can apply for an Aadhaar number. The Aadhar number has a lifetime validity and doesn't need to be changed or renewed and is valid as long as the person is alive.

Aadhaar Card can be used to represent an Indian identity or citizenship proof while opening a bank account, passport, booking railway tickets wherever an identity is needed but this is not the one, and only identity proof, other identity documents such as voter card and passport also work.

According to government's claims, it costs less than 1 US dollar to make an Aadhaar Card for an Indian individual, while some other economic researched done by many private bodies suggest the cost of this whole project is beyond government's estimates.

The officials claim that in present date UIDAI is capable of printing and dispatching more than 1.5 million Aadhaar cards every day.

Responding to the allegations and possibilities of the data breach by other countries, the Aadhaar officials have said that the Aadhaar software is owned by India and developed by Indians. But the reports suggest that the biometric matching software was provided by three private companies. Recently, a journalist from Chandigarh had exposed a syndicate that was faking Aadhaar Cards after having access to the centralized database.

Before launching the Aadhaar Card project, a thorough research of citizenship cards and unique IDs across the world was done. This research suggested that no developed countries would not use such kind of biometric information on the cards, as their citizens would find it as a threat to their privacy. Many such projects have been piloted in different countries for a small scale audience, and those tests have been miserably turned down as a BIG NO by the people. But with an amendment in Citizenship Act of India, the government made it legally acceptable for all.

Prime Minister Narendra Modi had a stern stand against Aadhaar Card project and had denied collecting the biometric data of Gujarat people in 2011 when he was Chief Minister of Gujarat. He also wrote a letter to Union Government questioning the need for National Population Register (NPR) and stopped the collection of biometric data for creation of the NPR. In his letter to the then Prime Minister Manmohan Singh, Narendra Modi had raised his objections over the implementation of UIDAI, calling it illegal to collect the individual's biometric data. However, now when he is in power as a Prime Minister, his government has made Aadhaar mandatory for more than three dozen schemes expanding the spheres.

 Aadhaar-enabled Payment System (AEPS) enables bank customers to access their Aadhaar-linked bank accounts through the Aadhaar authentication.