Do you know that now you will be able to pay using Aadhaar Card? Really ! this is true; with the dream of a cashless economy, Government is gearing up to bring simpler alternatives of cash. To make "Digital India" and to bypass the complexities of Netbanking, mobile banking, credit card and debit cards, Government has innovated an awesome way for cashless transactions. After introducing Unified Payment Interface (UPI) and Rupay card, Government is bringing an Aadhaar based online banking app know as Aadhaar Enabled Payment System (AEPS) and BHIM that won't need any customer id, PIN or passwords. This app will use your biometric identification as the password; you just need your Aadhaar Card number (आधार कार्ड) to make payment at any shop, restaurant or petrol pump. To boost this initiative by UIDAI, NITI Aayog has hailed mobile companies to make more smartphones that have iris scanners to scan fingerprints. As per sources, to promote and encourage online transactions, NITI Aayog might introduce a scheme to make cash transactions costly and to add an incentive on online payments.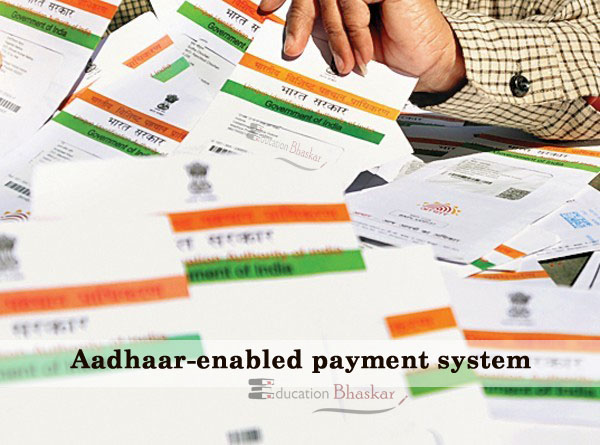 What is Aadhaar Enabled Payment System (AEPS)?
AEPS stands for Aadhaar Enabled Payment System which is the Android-based app by that allows Android mobile phone users to digitally transact using their Aadhaar number, either fingerprint or iris authentication and one-time password (OTP). Application rolled out by the Unique Identification Authority of India (UIDAI). This Android-based application can be. downloaded by the merchants. The dealers just need any smartphone and a fingerprint scanner to use it. The Transactions on AEPS app can be done without any card or PIN just by using Aadhar Card number and required authentication methods and Technology
Read: How to Pay or Receive Money using UPI-based BHIM App?
The Union Finance Ministry also suggested to the user-friendly version of USSD / NUUP or *99# which is used any mobile phones for making cashless payments.
Services available under AEPS app (software)?
The all below services to be available in both inter-bank as well as intra-bank modes.
Balance Enquiry

Aadhaar to Aadhaar Fund Transfer

Cash Withdrawal

Cash Deposit

BFD means Best finger detection
Benefits of AEPS:
It is very easy to use, safe and secure payment platform to get advantages by using Aadhaar number & finger prints.

It is based on the demographic also biometric or iris information of a user, it reduces the chances of any fraud as well as non-genuine activity.

It helps in expenses of Govt. entitlements like Social Security Pension, MNREGA, Handicapped Old Age Pension, etc. of any Central or State Government bodies, using Aadhaar authentication.

It helps in interoperability across banks in a protected and secured manner

It enables banks to elongate financial services to the unreached clients at unbanked and underbanked areas.
How to make payment using Aadhaar Card Merchant App?
The procedure of Aadhar based payment systems is simple. The method for obvious Know Electronic Your Customer (eKYC) using Aadhaar needs to be utilized and also recommended that RBI should allow authentication through iris scanner and One Time Password (OTP) for AEPS as well as also there should be no charge on AEPS transactions.
Here are the steps to pay using aadhaar card:
Frist of all, customers will have to put their Aadhaar Number and do verification through the fingerprint scan or iris scanning machine.

This AEPS Payment Merchant app to be installed in the Merchant (shopkeeper) smartphone by which a finger print scanner will be connected.

The scanner will scan your finger or iris (eye part) and send the details to the Aadhaar Enabled Payment System App on the phone.

The amount will be debited from your bank account which is linked with your aadhaar card.

The amount will be directly transferred to the merchant's bank account via app.
It's an undeniable fact that Government recommended people to use this app system to replace cash and debit/credit cards. Anyone is now able to pay using aadhaar card. It clears that you even don't need to keep plastic money or e-wallets or cash anymore. All you just need is an "Aadhar card" to make payments.