India is transforming towards the cashless economy. As the Government is all set to make India a cashless economy, common man's worries are rising. PM Narendra Modi, in his recent radio address Mann Ki Baat, has hailed youth to march forward and to aware people to use alternatives like  National Unified USSD Platform (NUUP) like USSD-based mobile banking, Unified Payment Interface (UPI), Netbanking, Rupay card, PoS machines and Aadhaar based bio-metric payment app but with opposition fueling the fire, it doesn't seem roads to cashless economy will be smooth for Modi Sarkar. For all those who say, in a country with poor literacy rate and poor internet network coverage the dream of a cashless economy will fade soon, we bring a guide on how to make online transactions without having a smartphone or an internet connection.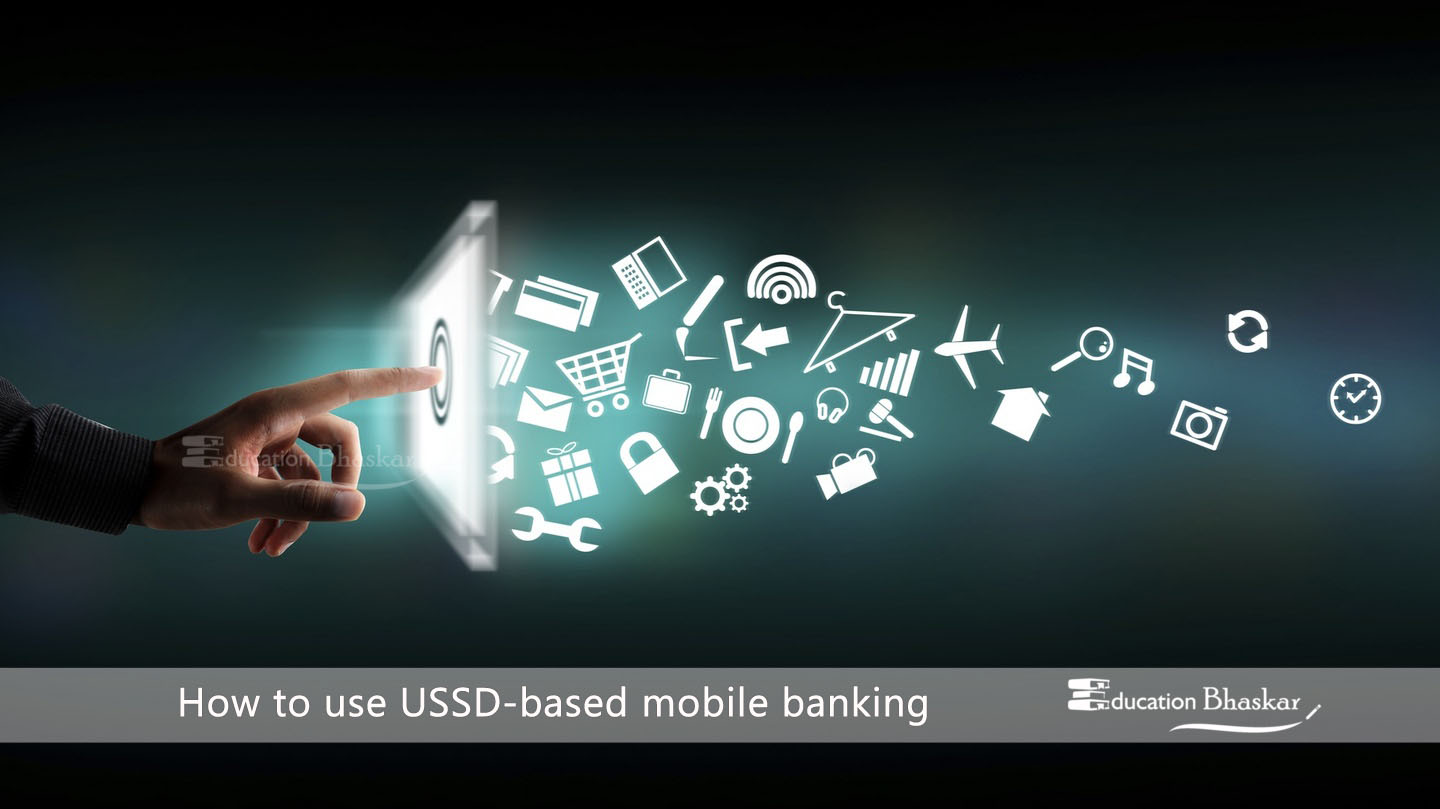 NUUP (National Unified USSD Platform) is a USSD based mobile banking service from NPCI that is as easy as dialling a number from your regular GSM phone. A scholar or illiterate, anyone can access mobile banking services by just pressing *99# from his GSM phone. And yes, you do not need any internet for using mobile banking via a USSD code and still can check your account balance, mini statement and transfer your money from one account to another just by entering a simple code MMID. The dream of a cashless economy will come right or not; it is hidden in future's chest, but it's our moral duty to teach, aware and help the common man to handle the situations in this tough time. If you feel this piece of information useful, kindly share it, because sharing is caring!
The Indian government has stated the new USSD technology for sending and receiving money through & into your bank account. There is not required to use the internet for banking anymore. You just need any mobile from where you may find some USSD codes that's it. You also do not need any e-wallet app. USSD technology has become the solution for you. Although, the mentioned payment method is applicable for only small value transactions up to Rs. 5000 as per RBI guidelines.
What is USSD meaning?
USSD stands for 'Unstructured Supplementary Service Data'.  Have you ever dialled any specific number to check your mobile balance, to check internet data, to check SMS pack, etc. Have you seen the recharge shopkeeper/retailer using specific codes to access mobile services, to recharge your number?  These codes are the USSD codes.
The codes that directly communicate with the server of a telecom company is called as the USSD. You must have observed that this code have special characters, starts with some '*' (asterisk) while ends with '#' (hash).
NUUP full form in Banking:
NUUP means National Unified USSD Platform. It is an innovative service developed by National Payments Corporation of India (NPCI) which is know as an umbrella organization for all retail payments system in India. NPCI started by the Indian government in the year 2014.
Unstructured Supplementary Service Data (USSD) is technology by NUUP generally used in the field of telecommunication  This is available for all GSM mobile phones which doesn't need any internet service to use.
What is USSD-based mobile Banking: NUUP Mobile Banking
As USSD code connects to the telecom operator's server and bank's server. Therefore, it provides you access to your bank account and also performs some transaction. The access to your bank account and the transaction is allowed only to registered mobile number. Consequently, you must have registered mobile number to dial the Banking USSD code. The connection to your banking server goes within the telecom companies servers which are handled by the NPCI technicalities of this USSD service. This system of banking transaction is known as NUUP.
How to pay using USSD based mobile banking- via NUUP

?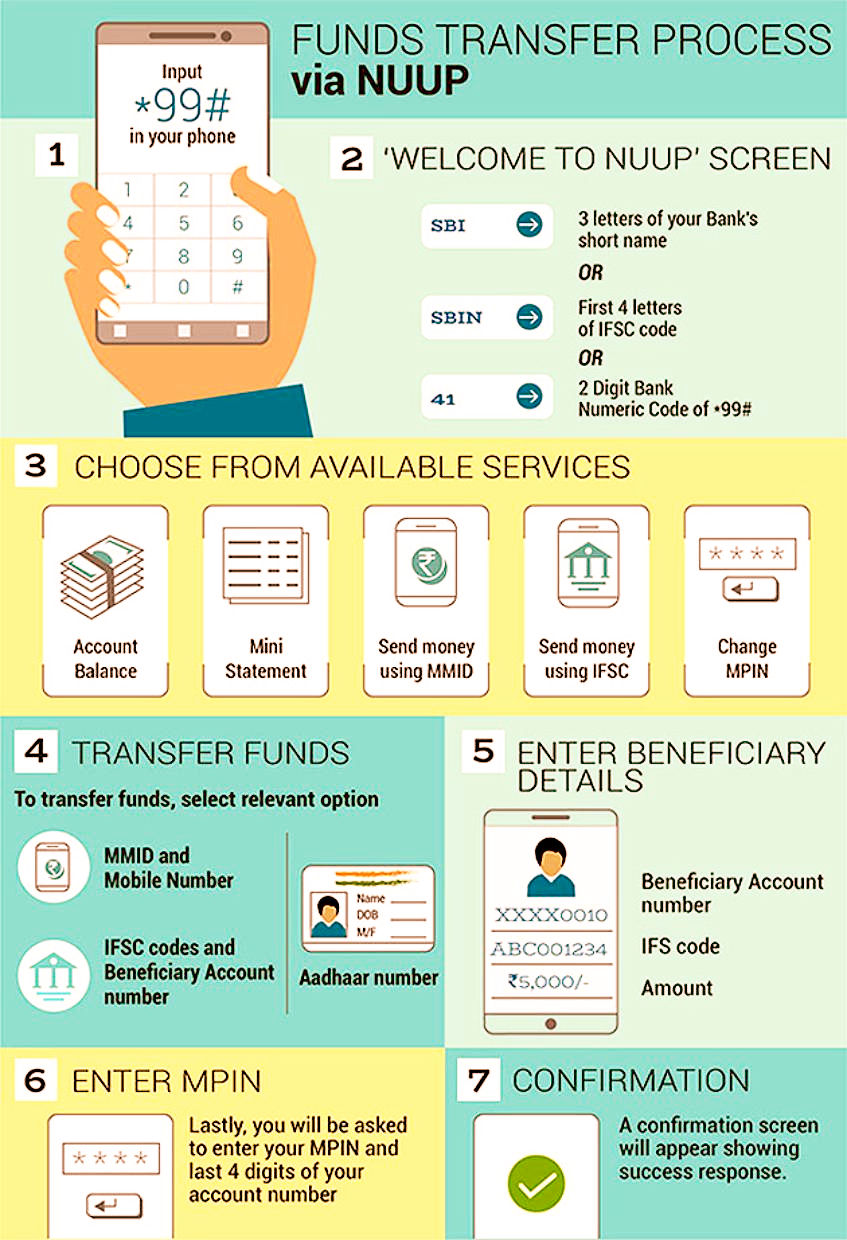 Step 1: Firstly, Dial *99# from the registered mobile number for mobile banking. Then just follow the instructions which will be available for you. Then, you have to type, Bank shot name, Digit numeric code or IFSC code of your bank. (you may check IFSC code from your bank passbook or can search online. You can see 2 Digit bank numeric code.
Step 2: Secondly, you will find another flash message, with many options like Account Balance, Mini Statement, Send money using MMID or IFSC, show MMID or change pin. Select 3 or 4 and send the command, then on new flash message, type beneficiary mobile number.
Step 3: Thirdly, Enter Beneficiary MMID or IFSC code( Get the IFSC/MMID from beneficiary/from the person you are about to send money. then click send.
Step 4: On next screen, you need to enter the amount to send and remarks (separated by space). For example, I want to transfer Rs 500, so it should be typed like "500 Gift".
Step 5: Lastly, you will have to enter your MPIN to authorize the transaction including last four digits of your account number (separated by space) and click on send. Once, your transaction is approved, the money will be immediately credited to the recipient's account.
What is MMID & IFSC?
MMID means Mobile Money Identifier. MMID is a 7 digit code issued by the bank to their customers for availing IMPS.
IFSC stands for Indian Financial System Code which is an 11 digit alphanumeric code that uniquely identifies a bank-branch participating in the two main electronic funds settlement systems in India i.e. Real Time Gross Settlement (RTGS) and National Electronic Fund Transfer (NEFT) systems.
USSD codes for mobile banking (by launguage)
This service is available in 11 regional languages other than English. To access the USSD in other words, follow the below shortcodes
| | | |
| --- | --- | --- |
| Hindi (*99*22#) | Punjabi (*99*30#) | Gujarati (*99*27#) |
| Marathi (*99*28#) | Telugu (*99*24#) | Tamil (*99*23#) |
| Malayalam (*99*25#) | Oriya (*99*32#) | Bengali (*99*29#) |
| Kannada (*99*26#) | Assamese (*99*31#) |   |
Limitation of NUUP
It is very important to note that once you transferred the money you cannot cancel or undo the transaction. while in online banking, you can cancel the transaction right after you have transferred the amount.

There is a limit set by RBI to transfer the amount, i.e. 5000 INR, so you can't transfer and receive amount above Rs. 5000. There is specific charges for every transaction which may vary according to the amount transferred.