Master's in Business Administration (MBA) earns you the skill set required to work and thrive in a business environment. It imparts the knowledge required to start a business, and to occupy managerial and leadership positions in the business. There are many branches of MBA. Every Branch of MBA has its own significance, so it's only you who make it worth after choosing between branches or specialisations in MBA; Finance Marketing, HRM, International Business General. There are many common types of MBA courses are as follows: Full-time MBA, Executive MBA, Part-time MBA, Correspondence Course, Distance MBA Courses, Online MBA courses.
In India, the MBA courses are gaining popularity on account of a shift from an agriculture-based economy to a knowledge-based one. There are several career options that could be pursued after completing an MBA. The salary packages offered are also more than satisfactory. Securing a job in one of the top companies is the kind of opportunity you need for a glorious career.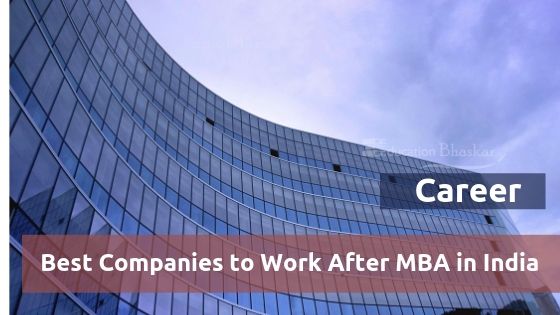 Top 10 Best MBA Recruiting Companies
Below are some of the best companies to work in India after completing the MBA.
 1. Google
| | |
| --- | --- |
| Name of Company | Google Inc. |
| Locations | North America, Latin America, Europe, Asia Pacific Africa & Middle East |
| Logo | |
| Link | Google Career |
Google India Private Limited is a private unlisted company which was established in 2003. It is among the top companies in India. Google has a capital value of over Rs 900.0 lakhs. Google focuses on mobile internet usage, small and medium businesses, and online video growth. It is based in Bangalore.
The company owns an exclusive campus in Hyderabad. It is the company's largest campus outside the U.S and has the capacity of over 13,000 employees. It has services in the development of the Android mobile operating system, Chrome OS which is a lightweight OS under the Chrome Browser, and the Google Chrome Web browser itself. It is positioned among the top growing companies of the country and would be a great place to work after the MBA.
2. Intel Technology
Intel Technology India Pvt Ltd. Is a Company limited by Shares and is a non-government company. It is a manufacturer of chipsets, computer processors, and software solutions.  It functions to serve customers in small and large business and educational markets in the country. Based in Bangalore, it was founded in 1997. Besides, there are also offices in Mumbai, Gurgaon, New Delhi, Kolkata, Hyderabad, and Pune.
It focuses on research and development of these and the manufacture of semiconductors. Besides, its services extend to the production of server systems, data center blocks, server chassis, Ethernet products, I/O products, and other communication products. The company also has services in human health activities and is undoubtedly one of the top companies in India.
3. American Express
American Express (India) Private Limited is a multinational financial services company with headquarters in New York City in the United States of America. It is based in Gurugram in India. The services it provides in India include credit cards and charge cards. American Express (India) Private Limited functions as a subsidiary under American Express International, Inc.
The services include network processing services and credit lending making it a strong competitor in multiple sectors of the country. It competes with Visa and MasterCard with its processing network. Its income comes from network processing transactions as well as interest-earning products. Amex credit cards offer customers an array of benefits such as healthcare benefits, rewards and cash back, Travel benefits, dining discount, and airport lounge access. This international giant is certainly a big name to work for if you are an MBA graduate.
4. NIIT
NIIT Limited is a company that provides training delivery solutions to individuals, institutions, and corporations. It is an Indian Multinational company with Skills and Careers Group (SNC), School Learning Group (SLG), and Corporate Learning Group (CLG). The IT services domain of the company was divided into a separately listed company called NIIT Technologies in the year 2006. NIIT Limited concentrates its services in Education and Training in Schools, Corporate Training, and Vocational Training for Services Sectors.
Today, it is ranked among the world's top companies in terms of training. This is due to their vast range of talent development programs. The company has branches in more than 40 nations of the world. It is headquartered in Gurgaon in Haryana, India
5. Forbes Marshall
Forbes Marshall is an Indian company that comes under the category of Industrial Automation. It is a prominent energy conservation provider, particularly in the process industry. It manufactures control instrumentation and steam engineering products. Established 1925 in Pune in Maharashtra, it has grown to become one of the top companies of the country. It was also voted among the top 10 companies to work in the year 2013.
Today, the company is a pioneer in energy conservation and process efficiency domains. It has widened its services to more than 18 countries of the world today. The presence of more than 14% of second-generation employees shows the excellent work environment provided by the company. It also has many third generation employees among its ranks. It takes its members seriously and makes for a great employer to work for as an MBA graduate.
6. NTPC
NTPC Limited has the accolade of being the largest energy conglomerate of the country. It was established in the year 1975 to boost the energy development of the country. Since then it has grown its way into the power generation business, becoming one of the leading names of the industry. It has progressed from fossil fuels all the way to electricity generation through nuclear, hydro, and renewable sources. It adheres to minimizing the carbon footprint while staying on top of the energy generation business.
In order to strengthen its operations, it has branched out its operations into rural electrification, training of professionals, and consultancy business. The aggregate installed capacity of the corporation is 53166 MW. It has several power stations including 1 hydro, 11 solar PV, 21 coal based, 7 gas based, 1 wind, and 1 small hydropower stations. Besides, the company is very selective about its employees and is a much sought after company in the country.
7. Ujjivan Financial Services
Ujjivan Financial Services is a corporate that function or a social cause. It is a microinsurance and Microloans company that has its headquarters in Bangalore, India. Many of the employees of the company gave up comfortable bank jobs before pursuing their collective dream or working for a change. Today, it has become a prominent name in the microfinance sector and is a highly sought after company among MBA graduates for a reason- the greater value that it brings to society.
It offers a number of financial services and retail banking services to the economically backward people in the semi-urban and urban areas of the country. Its services also include home improvement loans and home loans. They provide secured and unsecured loans to small and micro enterprises apart from general insurance and life insurance products. It has more than 441 branches in the country
8. MakeMyTrip
MakeMyTrip Limited is an Indian company that is dedicated to travel services. It is headquartered in Gurgaon in Haryana.  The company helps its clients to acquire online travel services such as domestic and international flight tickets, holiday packages, bus and rail tickets, and hotel reservations. It was founded in the year 2000 and is a public company. There are company offices in cities like Kuala Lumpur, Singapore, New York, Bangkok, Dubai, and Phuket.
It was founded on the idea of giving more power to the average traveler and has emerged as the leader in the travel industry in the country. It has been recognized for its transparency and reliability. Overall it is a great company to bring your dreams to fruition in the business industry.
9. Marriott Hotels
Marriott hotel is a company that operates in the sector of beverage service, food, and hotel. It has its operation center in India at Mumbai. The company is among the most sought-after business establishments of the country. It has over 100 hotels across the country. It was founded in 1927 and has its international headquarters in Bethesda, Maryland in the United States of America.
As of April 2019, the company has about 7,000 properties in more than 130 countries. Besides, it was repeatedly voted as one of the best places to work by Forbes. It was also voted as the fourth best company to work by the UK Times in 2009.
10. Blue Dart Express
Blue Dart Express or Blue Dart is a Logistics and Supply chain company headquartered in Mumbai, Maharashtra. Apart from its courier delivery services, it owns a subsidiary cargo airline Blue Dart Aviation which provides services in South Asian countries. It was founded in 1983. In 2002, it entered into a business alliance with DHL Express. Since then the latter is a major shareholder in the company.
Today it is South Asia's leading express air transportation company with delivery services to more than 35,000 locations in the country.
The company operates in several distribution services such as supply chain solutions, freight forwarding, air express, and customs clearance. It offers great opportunities for leadership as well as international exposure. It makes sure that the employees match their high standard and strives to provide flawless service to customers.
Conclusion
The above companies are among the top ventures to acquire a good career beginning in the business and management sector. The exposure and the responsibilities offered in these companies will be highly useful for their future endeavours.