The digital age is here. People use the Internet for many things, from ordering pizza to even for getting term paper service and help with other papers. We can now access millions of publications and similar resources at the click of a button, thus negating the need to visit libraries. At the moment, libraries are under threat because they are being seen to be obsolete. The popularity of e-books has challenges the relevance of libraries in the digital age. Despite this, libraries are still important for the following reasons.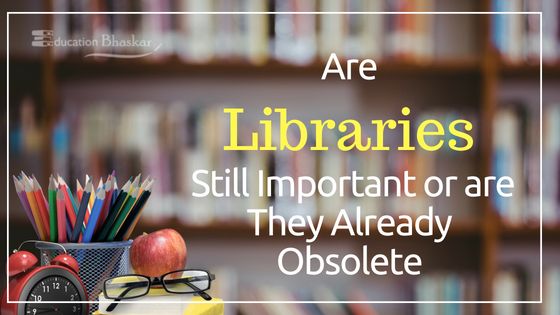 Importance and Benefits of a Libraries in Society, Schools, Colleges and Offices
Libraries offer more than just books on shelves. Besides the educational purpose that they serve within local communities, many people think that libraries serve other needs within the community. They are a source of pride since they also offer a myriad of community-related services. In some areas, libraries lend cooking equipment, tools and similar items. Other libraries offer facilities such as conference rooms. They also assist local community members to carry out job searches. This clearly shows that libraries are still relevant. Nowadays it is hard to imagine a town without a library because libraries have become a vital part of any growing and developing community and remain to be so. That is why it is very unlikely that libraries will vanish into the abyss.
 Adaptability of the Library
In as much as the development of technology has revolutionized access to information, libraries have also evolved. The role of librarians has equally evolved. They still organize, disseminate info, and offer instructions pertaining to the access of the information. They do this in line with evolving technologies. Libraries are increasingly replacing physical books with electronic media. Nonetheless, they still maintain their intrinsic characteristics. Physical libraries offer more than what digital libraries offer.
Libraries are funded by the public, and thus are free for everyone. Even if we calculate the costs of property tax levies and local sales taxes, libraries will cost much less than keeping a Kindle service or something similar, and that is one of the defying factors why building libraries are economically more beneficial. Libraries are open to anybody and of its many great features is the availability of internet and Wi-Fi, so it does not matter whether you have come to the library to read a book or just to spend time online – it is all made possible in the library. For years it has become sort of a hub for people with common interests – books (literature, guides, news, etc.), so it is only natural they will gather at the library to discuss some new books they've read and liked.
Tranquil Learning Environment
 Despite the fact that fewer people are making visits to libraries, they still serve their original purpose. A library offers a peaceful and tranquil learning environment than any other place. Access to information is regulated, something that particularly makes them a better option to parent. During school holidays, libraries keep kids from engaging in deviant behaviour. Digital libraries can hardly serve this purpose because there is little or no restraint. And people like quiet places this day, with all our hectic lifestyle it is just nice to relax with a cup of coffee and a good book. With everyday hustle and bustle, libraries can become somewhat of a safe zone for people who are looking for peace and tranquillity.
Preservation of Community Artifacts
There is no better way of preserving historical local community artefacts, oral histories, and monographs than having them in the community library. The presence of a physical library makes it easy to manage and use the artefacts in a manner that benefits every member of the society. Libraries are needed by people and their disappearance will definitely cause protests.
Despite the existing debate about their usefulness in the current digital age, libraries are still beneficial. It has been noted that some digital information sources are inaccurate since such sites can be accessed and edited by anyone. On the other hand, libraries contain verified manuscripts containing near-factual info. Therefore, their importance cannot be downplayed. So it's up to you decide. Some students will prefer libraries, but some will go looking for writing services online.