A government job, or "Sarkari Naukri" as it is commonly known, has maintained a strong presence in the society we live in. Especially in Indians, the thought of getting placed in a government job after graduation is very prevalent. And why not? A government job in India provides excellent job security, pays really well, and comes with some additional perks that you might not enjoy in other positions. This is the main reason why most people prefer government jobs over private jobs and MNCs.
Government jobs are one of the largest employers in India, a country of more than 1.3 billion people. When you hear government jobs, the first thing that might come to your mind is administrative government offices employing people for administrative positions. While you are right, a government job is much more than just the administrative offices. In India, government jobs cover up a plethora of niches and organizations, including Indian Railways, government schools, government universities, public sector banks, government hospitals, government electricity board, defence, telecom, water boards, PSUs (public-sector undertakings), and various others.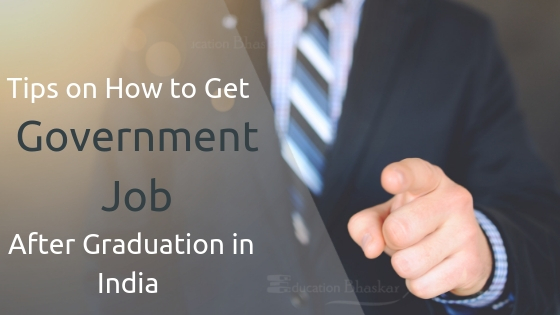 Since government jobs are one of the most intriguing employment choices, a vast number of young graduates dream of stepping into a government job that could ensure them a secured future. However, getting into a government job is easier said than done. Most of the government jobs are usually preceded by an entrance examination, which a candidate needs to clear to move to the next round. The entrance exam is very important since it helps shortlist a limited number of candidates from the thousands of applications.
The government jobs are divided into various categories depending on the niche, work, qualification required, and various other factors. Therefore, it's essential for the candidates to know about the different government job categories and the ones they are eligible to apply for. Most of the government jobs that require technical knowledge fall under the category of Group A and Group B, while Group C and Group D are usually for the non-technical jobs.
The best Government Job after Graduation in India that most people don't know about?
Indian Foreign Services
Public Sector Undertaking (PSU)
Indian Revenue Service (IRS)
Indian Forest Services
Staff Selection Commission (SSC)
RBI GRADE B
NABARD officer
Photographer with the Photo Division of India
Researcher at DRDO
Forest Ranger
Indian Coast Guard (ICG)
Tips on How to Get a Government Job After Graduation Freshers in India
If you are a young graduate, fresh out of college looking to get into a government job, then here are some of the most important steps that can help you get a government job:
Identify your choices based on your interests and qualifications
Focus on your knowledge, skills, and strengths
Do Proper Research
Prepare for the entrance
Prepare for the interview
Now we will learn the tips mentioned above in details:
Identify your choices based on your interests and qualifications
Before applying for any type of government jobs, the first thing you need to do is identify your interests. Based on your interests, you can list down the career options that you could get into. Owing to the vast number of niches and organisations, the government job world can get very confusing, which is why you need to be clear about the niche and the type of job you are interested in. Also, you need to consider your qualification and the government jobs that accept candidates with your skill. This will help you make a brief list of specific government jobs that you can concentrate on.
Focus on your knowledge, skills, and strengths
Before applying for any government job, you need to make sure that you don't portray yourself as what you are not. You need to make sure that you apply for a government job that you are sure about. Remember, instead of trying to learn a new skill required for a specific job, you can always choose to apply for a job that requires what you already know. This helps you brush up your present skills and enables you to promote your strengths. Also, this provides you with a better opportunity of clearing the entrance exam, since you already are good at it.
Usual research while applying for a government job doesn't provide much help. To get into a government job, you should know the niches, companies, selection process, exam pattern, marking structure, minimum marks required, interview patters, employment rules, and others that are involved in the process of you getting into a government job. To know all these, you need to research a lot since this also helps you get an edge over the thousands of other applicants for the specific job.
There are many ways of doing it; you can take the help of various online websites that provide you with information, newspapers, and multiple other sources.
After doing proper research, you can start preparing for the entrance exam. Since you already know the exam pattern, marking structure, and the syllabus, it might be easier for you to make an action plan that will help you clear the exam. You should focus entirely on the syllabus and the things you need to do to complete the syllabus within a stipulated time. Also, you can also check for the previous year questions, sample questions papers, mocks tests, and others that are readily available on the internet and other sources.
Prepare for the interview
Once you clear the written exam, most government jobs will have an interview round that you need to clear before getting a job offer. You need to be well-prepared for the interview as it might be the deciding factor of you getting a job or not. Make sure that you can express yourself clearly while you are at the interview. Also, alertness is very important since you might be asked questions that might surprise you. This is when you need to keep your calm and answer smartly. The best way of preparing for an interview is trying to find the probable questions and answering those questions in front of a mirror, which might instil confidence in you.
Here you go, these are some of the best tips that can help you get a government job. Clearly, if you are interested in working in a public sector, the decision and the preparation should well precede the action. Since the competition for these jobs is immense, you need to make sure that you are well-versed with the requirements and are prepared for what comes in your way. You can always take the help of internet, newspapers, and various other sources in the quest of getting a government job. However, you need to make sure that you have credible sources that can make your search easier.