Nowadays, Depression has a common problem for mankind. One in three people had experienced, has experienced or will experience a major depressive incident at some stage in their lives. There are mostly mild cases of Depression while about one in ten has a moderate or severe case.
It affects mentally and then physically too. We may not realize that we face similar challenges, emotions, and obstacles. Firstly, let us tell you " If there is a will then there is a way".You have approached us and reading this article and shared your problem. It clearly indicates that you really want to resolve your problem. See, if you have depression, this article for you. There are many forms of depression like anxiety, post-traumatic stress disorder, mental instability, frustration, pain, or anything related to mental illness and other health issues; it should not be ignored.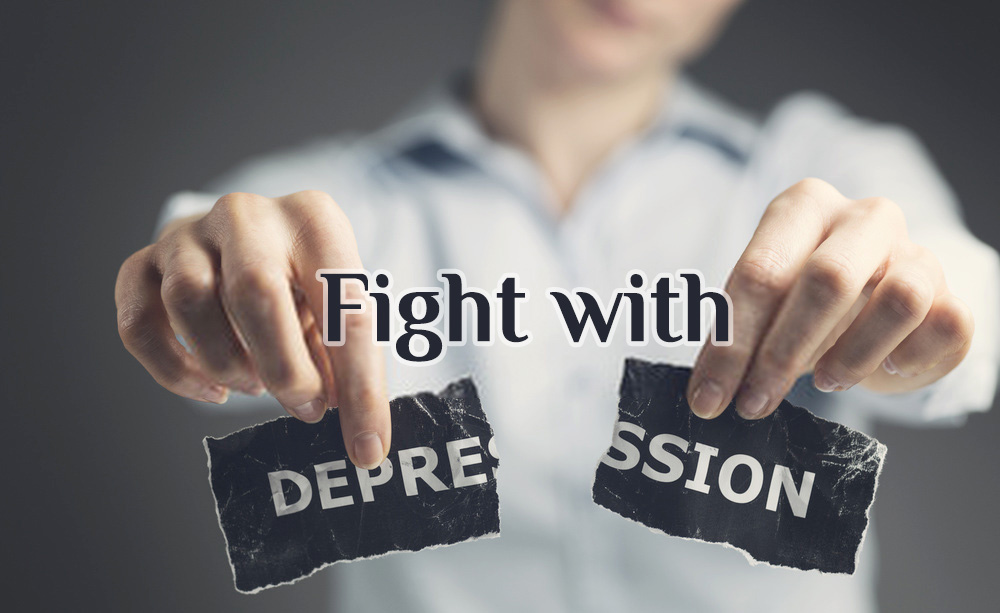 What is Depression?
In simple words, Depression is a sickness in which excessive sadness, loss of interest in enjoyable things, and low motivation.
Thoughts for depression
There may be many roots for which causes Depression. There are possible backgrounds and we shouldn't grow these thoughts and fight depression.
Self-doubt
Self-pity
Depressing period
Self-harm
Suicidal thought
You need to consider it as a natural part of becoming a stronger version of yourself. Many persons have gone through with these kinds of states and it happens with every second person. And, if you try to figure out the root cause of your problem, you can easily eradicate it out from your life.
"Depression should not kill us, we should fight and kill it".
What keeps you going?
There are many negative thoughts that keep going in your mind. First of all, you shouldn't give time to below thoughts to fight depression:
How worse could it go now? I have failed. I have hurt myself. I have failed relationships. I have done nothing too substantial to boast about. I wanted to die but I a still here. Now what?
I did not choose this life for me. I am still not there where I have wanted myself to be in.
No one will believe in my struggle until I succeed in life.
Tips on How to Deal with Depression and Sadness?
We would like to mention some practical measures that you can take in order to combat depression.
Ask yourself about the source of your problem. Find out what is there missing in your life? What do you want and what is going wrong? What exactly is pushing you towards this situation?
Once you find out if there are multiple bad things going wrong in your life like love failure, No employment or fear of being alone, and many more. Try to take one issue at a point. Once you decide to fix one issue, check whether this can be solved by you or is there any external help you need.
Once you are sure about that, try to share with your loved ones like your friends will be the best choice or any well-wisher or maybe parents or any relatives!
If you don't have anyone to share, there are millions of people out there who are ready to listen to you. Try to approach them. We are sure that one or another person will definitely help you. ( Sometimes we underestimate our friend list)
If you feel like there is no motivation to live, Try to help others and bring smiles on others' faces. We are sure that you will find some reasons to live. Just think about your parents or your loved ones. " Would you let your loved ones die like this? "If not then you should not too.
Don't assume that you are alone, that one friend, that one colleague that one family person who will definitely love you more than you thought. Just talk with them!
If suicide ever come across your mind, talk about it to people who love you would like to hear your story rather than your death story.
Get a pet (Dog is highly recommended). Trust me they can steer your depression away from you without taking the help of any kind of medicinal help.
It takes time. Don't rush. Patience is the key to success here.
In order to deviate yourself from negative and unwanted thoughts, you can watch comedy shows, porn ( Do practical stuff related to it if it helps ), web series, or any favorite movie of yours.
Don't talk about your failures. Count all the achievements and recall all the proud moments you have experienced so far.
Invest time in your passion. If you want to forget something, just don't give it time. It is high time to begin working on your dreams. "NOW" is the right time to start struggling.
If all those things are not working for you then only seek medical counseling.
Healthy lifestyle, Eating healthy food, 8 hours of sleep, spending present with nature, yoga, meditation, and learning new things or skills like learning English

are the natural remedies for any kind of mental disorder. Do not

forget to stick to this in your recovery phase.
Don't Lose Hope. It is just a matter of time. This phase shall too pass soon. Trust me in the future, you will laugh on yourself by recalling this phase of your career

.

Last but not least! Read the book "The power of our subconscious mind

" by Joseph Murphy. This book will change your mind. This can cure any problem that an individual is suffering. This book is highly suggested.
Well, This is it. We know when depression appears in your life, think of it as a cry for help from your subconscious. Listen to it; find out what it's trying to tell you. If you've been depressed for a long time, anti-depressants can give you the energy to make new choices.
However, though medication may make you feel better, the cure to depression is still in your hands. Only when you confront and understand the true cause of your depression, then take action to address it, will you finally be liberated from it no matter what the temperature outside.
We hope our article will help you. Please take a moment to reply with feedback later. Thank you. Stay Happy and cheerful. You are born to do miracles in your life. Don't forget you are very precious to this society, to your family and to our country.