Aspirants, we all know the significance of the 12th Class is on our lives. It is the class where the foundation of our career is kept. Career selection after 12th class is a tough decision. One can select their area of interest to pursue their desired career. Engineering is not just a course in India; it is considered to be a sure shot to success. And why not? After all, some of the most amazing companies offer wonderful jobs to engineers. Students with a B. Tech or B.E. degree have the privilege of being the most 'in-demand' professionals in the industry. Over time, new B. Tech or B.E. specialisations have emerged in the market, and thus students planning to take B. Tech or B.E. admission often find themselves searching for the best one to pursue.
Frankly speaking, every branch in B.tech or B.E. is perfect, it depends totally upon you that how much devotion, talent and the dedication you can deliver to become an Engineer. Every stream is best at its own if you choose the field of your interest. The early ages fact that just opting for a B.tech or just getting a degree in an engineering course is all that matters has lost its virtue and glory instead the demand of the present era only comprise of getting a degree from a prestigious institution and having best grades and practical knowledge required for the field, and moulding that fantasy into reality is far more difficult.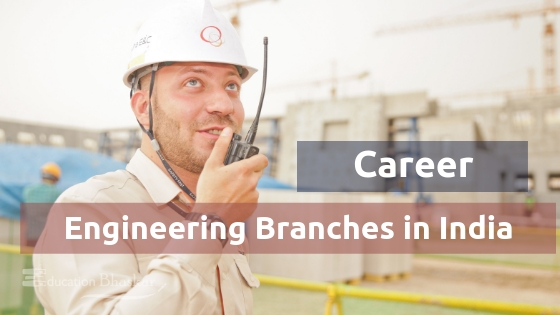 Although, there are some Engineering branches have more in number and reliable job opportunities if we compare them. We have compiled for you a comprehensive list of all the B.Tech specializations that are offered in Engineering colleges in India. Going through these options would help you make an educated choice. Btech initial years have loads of math and science courses similar to all engineering majors. Afterwards, student expends the second 2 years structure on this science/math information. There are plenty of dissimilar Btech branches which relate different fields of science. Although, every engineer have a large knowledge of all regions.
Famous Branches in Engineering (B.Tech./B.E.) in India
Engineering Branches
Aeronautical Engineering
Aerospace Engineering
Agricultural Engineering
Applied Electronics & Instrumentation
Automobile Engineering
Bio-Chemical Engineering
Bio-Medical Engineering
Bio-Technology
Bioinformatics
Chemical & Alcohol Technology
Chemical Engineering
Civil Engineering
Computer Science
Computer Science & Engineering
Electrical & Electronics Engineering
Electrical Engineering
Electronics & Communication Engineering
Electronics & Instrumentation Engineering
Electronics & Telecomm Engineering
Electronics Engineering
Electronics Instrumentation & Control
Environmental Engineering
Energy Technology
Fire & Safety Engineering
Food Technology
Geo-Informatics Engineering
Geo-Science Engineering
Genetic Engineering
Industrial Engineering
Industrial Production Engineering
Information Technology
Instrumentation & Control
Instrumentation Engineering
Leather Technology
Man Made Fibre Technology
Manufacturing Technology
Marine Engineering
Material Science
Mechanical & Industrial Engineering
Mechanical Engineering
Metallurgical Engineering
Mining Engineering
Mechatronics Engineering
Naval Architecture
Nuclear Science and Engineering
Oil Technology
Ocean Engineering
Paint Technology
Plastic Technology
Production & Industrial Engineering
Production Engineering
Pharmaceutical Technology/B-pharma
Software Engineering
Textile Chemistry
Textile Engineering
Textile Technology
Transportation Engineering
Which Engineering (B.Tech/ B.E) Branch is the Best in India?
Further, if you have ample of time and a supporting family than opt for core branches like Electrical, Mechanical, Civil and many more in which government sector jobs are available and if you have patience and hardworking attitude opt for it. Further try not only hard work but smart work that will help you in the longer run, try to consult any mature person from Engineering field who had faced hardships of engineering sector, he will give you the right and the most specific consultation.
Among these famous curses, the courses listed below are in our Top list. We have listed below the best Tech/B.E. specialisations year 2019. Continue reading to know them all.
Talking about best B. Tech specialisations and ignoring civil engineering is a sin no engineer can pardon. A plethora of opportunities is waiting for students once they graduate. Students can also go for higher studies and join MNCs abroad.
Salary: The starting salary of a civil engineer can expect 3-20 lakh depending on factors like college, recruiter, skills and job profile. A Fresh civil engineering graduate can expect a salary of Rs 30,000 to Rs 40,000 a month and the remuneration is likely to rise with experience and skills.
Top Institutes: In addition to the most popular IITs and NITs, Delhi Technological University, Birla Institute of Technology-Mersa, BITS-Pilani and ISM-Dhanbad are great institutes for civil engineering programmes.
Employment: Top recruiters include public sector majors like Indian Railways, Public Works Department(PWD), DLF, Larsen & Toubro Ltd. Engineers India Ltd. etc.
Whether it is 2009, 2019 or 2029, mechanical engineering can beat any 'year challenge' when it comes to its popularity. This evergreen B. Tech branch sees a vast number of applicants every year. The salary package purely depends on the college from which they have done their engineering and the recruiter. Thus, it is important to apply for B. Tech admission at the top colleges in India.
Salary: Entry level mechanical engineers can expect pay of Rs 1.3 to 3.5 Lakhs per annum and can rise to 20 lakh corroborative with the enhancement of skills and experience of the candidate.
Top Institutes: In addition to the most popular IITs and NITs, Indian School of Mines –Dhanband (ISM-D), Delhi Technological University and BITS-Pilani for good mechanical engineering programmes.
Employment: Top recruiters of mechanical engineers in India include auto majors Mahindra & Mahindra, Ashoka Leyland, TATA Motors, Reliance Power Ltd., DRDO, General Motors, Fiat etc.
Computer Science Engineering/Information Technology
IT sector of India is on a spree and the growth it has witnessed in the 21st century is exceptional. With this upsurge, the box of unending opportunities has also opened for young aspirants of India. Today, a computer science graduate can easily find a job and settle with a stable career. Moreover, it is not just the IT firms where they can get a job, other fields like engineering research, government departments, universities and manufacturing sectors also offer lucrative opportunities for such graduates.
Salary: The pay scale is also impressive, and a fresher can expect an average income of Rs. 4.5 to 6 lakhs per annum and 20-30 lakh per annum increment in a few years with the respective promotion.
Top Institutes: In addition to the most popular IITs and NITs, students can also look at institutes like ISM-Dhanbad, IIIT-Hyderabad and BITS-Pilani.
Employment: The top technology majors like Google, Wipro, Microsoft, Apple, Amazon, IBM, TCS etc. often hire the students directly from placement drive at top institutions.
Electrical/Electronic Engineering
Considered as one of the most-sought-after B. Tech branches, electrical engineering deals with the concepts related to electricity and electric machinery. Some of the topics covered during the four-year course include control theory, basic of electronics, electromagnetism, safety management and so on. Once you have completed electrical engineering, you can get a job with an average pay scale of Rs. 3 to 5 lakhs/annum.
Salary: Once you have completed electrical engineering, you can get a job with an average pay scale of Rs. 3 to 5 lakhs/annum. With the time, experience and skills enhanced, the senior electrical engineers can attract pay of 10-15 Lakh Rupees per annum.
Top Institutes: In addition to the most popular IITs and NITs, students can also look at institutes like Delhi Technological University (DTU) and PEC University of Technology – Chandigarh.
Employment: The recruiters for electrical engineers include public sector units like Bharat Electronics Limited (BEL), Bajaj International Private Ltd.,  Electronics Corporation of India Limited (ECIL), Centre for Electronics Design and Technology, Bharat Heavy Electricals Limited (BHEL), Reliance Power Ltd, SAMSUNG, NOKIA, SONY, CISCO etc.
The popularity of petroleum engineering can be considered a sudden change but the way its demand has risen, it's nothing but impressive. The four-year course deals with the exploration and utilization of energy resources.
Today, there are diverse job opportunities for petroleum engineers and a hefty pay scale is enough to make it one of the highest paying career opportunities.
Salary: Students with a degree in petroleum engineering often get a monthly salary between Rs. 25,000 and Rs. 40,000 apart from other perks.
Top Institutes: IITs and NITs
Employment: The recruiters for electrical engineers include Bharat Petroleum Corporation, Hindustan Petroleum Corporation Limited, Oil and Natural Gas Corporation, Shell Technology, Derrick Petroleum etc.
The Final Words:
Done reading? Well then go for B. Tech/B.E. admission with an informed choice. In case you wish to know more about the scope of these Engineering Specialisations, you can also attend the webinar of universities like UPES and get a better idea. The university itself offers B. Tech admission in various specialisations and has an impressive placement record too. So, explore their website today.
Best wishes from Education Bhaskar