Many UPSC aspirants are clueless as to when to start their UPSC Preparation. This article gives them the right idea and information on the ideal age for preparing for UPSC.
The UPSC a.k.a the Union Public Service Commission has recently revised their age limit for giving the UPSC exam. It's now between the ages of 21 to 35. This means the UPSC commission believes that one has the ability to crack the most difficult exam in the country by the final years of your Bachelors' graduation. However, when it comes to preparation "age is just a number." You are never too late or too early to give a UPSC exam.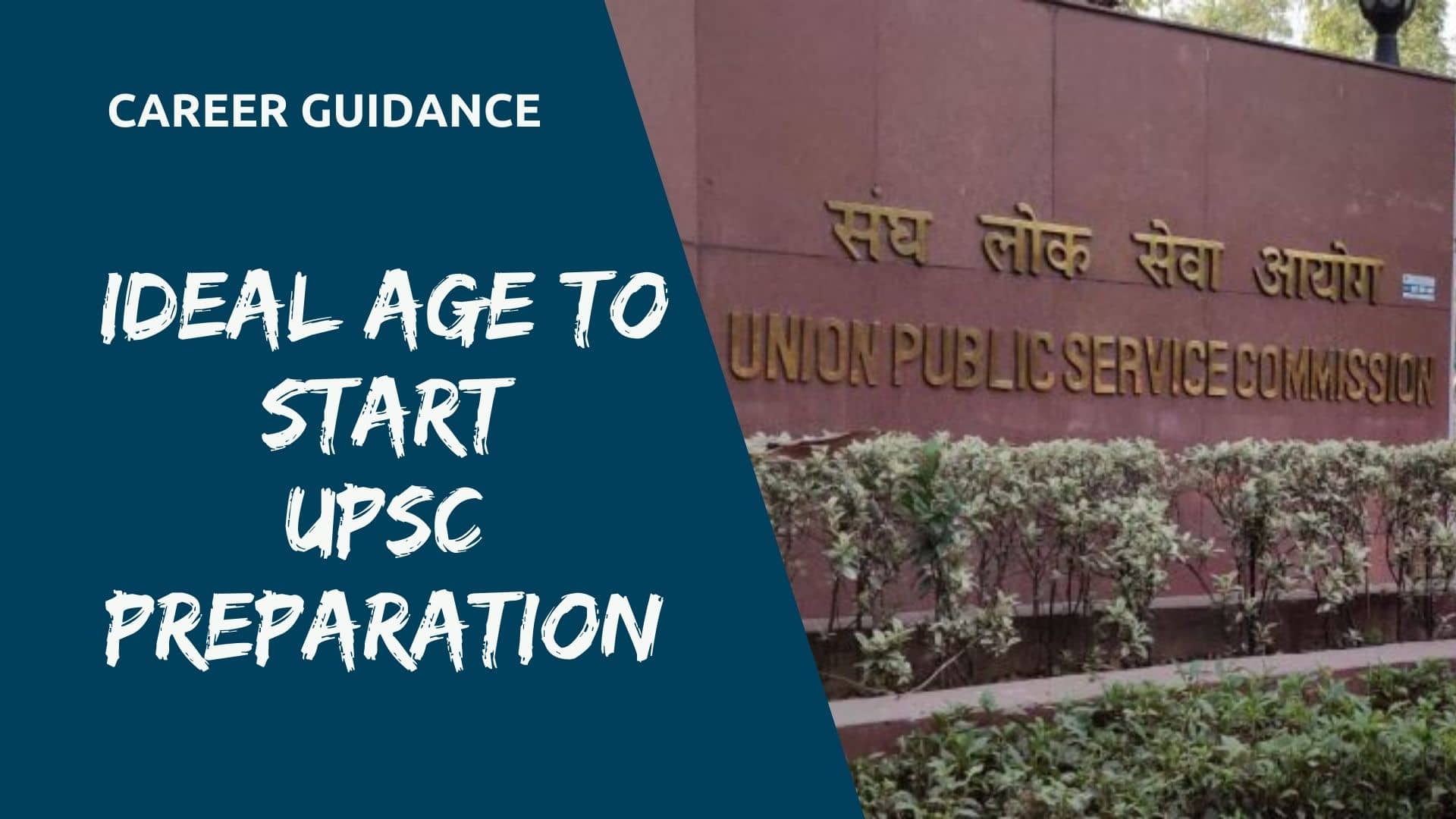 However, many aspirants who want to pursue their Civil Servant dream are unsure as to when they should start preparing. One must understand that preparing and appearing for the UPSC exam are two different things.
Ideal age to start UPSC preparation
In this article, let's try to find your answer to the question "what's the ideal age to start UPSC preparation?"
But, before that we need to figure out which bracket of aspirants you fall under:
Early Bloomers: Gone were those days when kids/teens were clueless about their career choices. Many of them decide to become an IAS officer early in life (after X or during XI or XII standards).
Fresh Out of College: These kinds of people decide to pursue their dream to become an IAS officer during or after finishing their university education.
Working Aspirants: These people listen to their IAS calling later in their life, like while on a job or after working for a few years in the corporate, government or social sector.
By now you must have realised which bracket we belong to. Let's have a closer look at each of these age groups and pro-and-cons of starting preparation for each of these age group.
1. Early Bloomers
 "You are never too young to lead and never too old to learn." – Kofi Annan
 Pros for this bracket of aspirants:
It's a known fact that the best resource for preparing for the UPSC syllabus are the NCERT books. If your school board is CBSE, then congratulations! you have already covered a large part of UPSC preparation.
Another advantage of starting early is that the mind is more malleable and open to ideas which helps in multi-dimensional concept understanding.
Cons for this bracket of aspirant:
It's possible that by the time you reach the age when you are eligible for the IAS exam, your vision and career aspirations may change. Since you have other distractions, you will become less passionate about cracking the UPSC civil services.
Current affairs is a crucial part of the UPSC syllabus. However, since the current affair is never static and always changing, you can't prepare for it at an early age.
"Amateurs sit and wait for inspiration, the rest of us just get up and go to work."

—Stephen King
2. Fresh Out of College
Pros for this bracket of aspirants:
You are still in the reading, writing and studying stage. Your exam writing process is similar to that of the UPSC exam. Hence, you are in the correct frame of mind.
UPSC exams have optional subjects that one can choose to write on. You can choose the one you are already studying in college to save time plus energy.
You have free access to the college library and online journals, which will be a good addition to your study material for UPSC.
Con for this bracket of aspirant
You may not be able to enjoy your final years of college life or not take part in extracurricular activities during college. It's a disadvantage since all these activities shape your personality and who you become as an individual.
3. Working Aspirants
Better late than never!
"It always seems impossible until it's done." —Nelson Mandela
Pros for this bracket of aspirants:
You now have both work and life experience. This experience will come in handy and you will have more things to talk about in your UPSC interview rounds.
Since you are working and managing all kinds of stressful situations. Hence, can deal with the high-pressure UPSC preparation.
Your work experience will also help you in your job since you will be more mature and diplomatic in handling tricky and demanding situations.
Cons for this bracket of aspirants:
You don't have the luxury to postpone your exam or take several attempts.
Since you are working, you may have lost touch with studies and exam writing situations. You may find it difficult to get into the habit of studying again.
You have other responsibilities as well like – family, finances, etc.
Right Age to Start UPSC Preparation?
When interviewed by then IAS aspirants and now IAS officers, it was found out that many of them have started preparing for the IAS examination from the school itself. The others have started preparation for UPSC from their bachelor degree itself.
So every individual is having a different thought process and procedure strategy to start preparing for the UPSC examination.
However, thankfully there are coaching centres like UPSC Pathshala that provide personal mentorship and coaching classes that can be customised based on the individual's background.
Conclusion
Through this, you understood that all brackets have certain pros and cons. Hence, it's difficult to derive the right age for taking the UPSC exam. However, when you weigh the pros over cons, "Fresh Out of College-age of 21" seems to be a good age to start preparing for UPSC since the cons are less than the pros.
But, you must keep this in mind. Starting UPSC preparation doesn't only mean reading from all kinds of study material. You must also strive to keep improving your personality. Since books and materials will only get you to UPSC prelims, your personality will be on the test when you are writing Essays and sitting for Personal Interviews.
One can start preparation at any age. But, they must be aware of things happening around them, their locality, their society, their country, their continent and the world. Being aware of your history, culture, and government system is crucial if you want to crack UPSC.
The right age to begin UPSC preparation is any age you think of beginning your preparation. As success is something that can be achieved at any age. All you need is the right guidance, determination and the resilience to bounce back even when you face failure. For free guidance, you can turn to a coach like UPSC Pathshala, where you can ask your doubts in free demo sessions.
Do you think you are ready for your UPSC Preparation? Then don't wait for the right age. START NOW!