Universities have become the innovation grounds for many new start-up ideas and launches. They make for the perfect platform from which new entrepreneurs emerge. Some of the top management institutes in Delhi have top-tier entrepreneurship Launchpad initiatives, along with best-in-class incubation centres.
Universities like IILM have a strategic focus on entrepreneurial initiatives, making an MBA admission in Delhi that much more competitive. IILM and other premier universities involve the faculty to become mentors to bright young students, as well as provide a myriad of networking opportunities to enhance their success.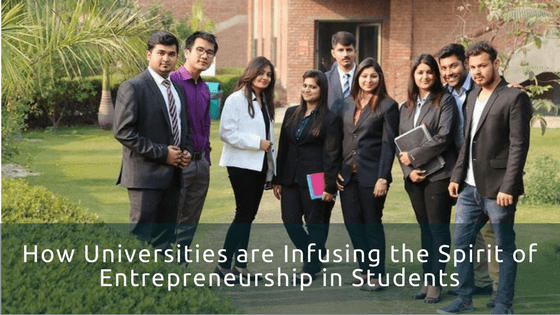 International entrepreneurial education:
One of the benefits of studying in a top-tier management institute is that they have a strong focus on international education. They borrow curriculums, case studies, and interviews from the top business schools in the world.
Students pick up the spirit of entrepreneurship from these universities while participating in their rigorous coursework. Universities are driving international learnings as much as possible, especially when it comes to studying in the top management institutes in Delhi.
Incubation centres and mentorship:
A key focal point of much of the attention given towards higher education is based on entrepreneurship. When it comes to developing young entrepreneurs, a top-tier incubation centre counts towards development and training raw talent.
Ideas are shared, discussed and refined towards perfection so that young minds can become the leaders of tomorrow. IILM houses iLabs, which is a top-tiered incubation centre in its campus. Through iLabs, IILM is preparing the entrepreneurs of tomorrow.
Problem-solving and critical thinking:
One of the most important skills taught at top management institutes in Noida is the art of critical thinking. Not only is it inculcated in the minds of entrepreneurial hopefuls, it's also taught to the general management class as well.
Since critical thinking plays such an important part in the entrepreneur's life, it's taught in conjunction with regular coursework. By teaching why subject areas, leadership strategies and behavioural theories work the way they do, universities develop critical thinking and problem-solving skills.
The network effect:
Network effects come into play when the student has been exposed to other entrepreneurs and business mentors who have been running companies successfully around the globe. In top universities, these students get to interact with these leaders and leverage their network to its full extent.
Whether that's area specialization networking or meeting with investors, universities create new opportunities for young entrepreneurs and go above and beyond to ensure their success. That core element of networking is what separates successful entrepreneurs from those that fail.
Perseverance and work ethic:
One of the most important skills responsible for longevity in the entrepreneurial space is work ethic. Top universities develop young talent to become more hardworking and extend their potential further.
Perseverance is another important skill that can only be developed in a university setting in the early years of one's educational background.
Conclusion:
The spirit of entrepreneurship stems from the earliest interactions with business leaders and thought influencers. These are the professors, faculty and mentors in top tier institutes across India. Learning to think like a businessman, having a high entrepreneurial IQ and developing a good network starts from the university itself.