With the advancements and urbanization, the need for smart city planning is necessary. Smart city not only helps in better and easy living but if designed properly it is less harmful to the environment. At this time it is very important for the smart planning of these cities because we notice every day how climate change is occurring around us, and how pollution is now at its peak. These cities have to be made keeping a cleaner, greener, and safer future in mind.
Developing a smart city, as we all understand involves a lot of planning. Considering today's scenario it is very important for urban developers to have professionals who can manage the overwhelming urbanization. What exactly is a smart city? Frost & Sullivan in 2014 defined smart city as: "Smart governance, smart energy, smart building, smart mobility, smart infrastructure, smart technology, smart healthcare and smart citizen."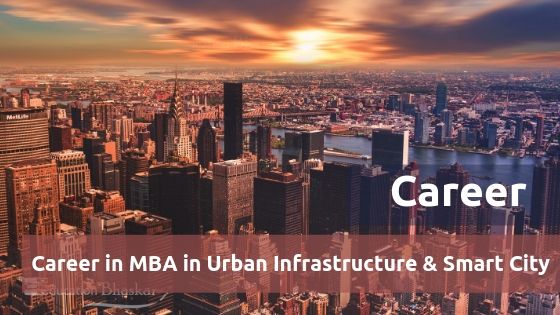 Why is there a need for urban infrastructure and smart city development? With advancements in population, the needs of people are augmenting. In this technology-driven society, the infrastructure should also be technologically up to date. Infrastructure not only entails buildings but roads, bridges, water supply, tunnels, and telecommunications also. All these things together make a city. What we need to do now is work on the technology and the managing of advancements which are going to happen.
There are so many people working to improve the infrastructure, but managing everything becomes difficult. Now, the demand for managers who are equipped with knowledge about urban infrastructure and the smart city has increased. In the coming future, they are going to play a vital role in urbanization. This is because people are more aware of technologies and they need the best amenities. Planning the whole project and building is a separate thing, managing how everything is going to happen is what lacks in infrastructure and smart cities development. The role of urban infrastructure and smart cities managers starts from here.
MBA in Urban Infrastructure & Smart City is an emerging field, and it is only going to rise. In this field, one inculcates the knowledge about not only managerial skill about urban infrastructure and smart city development but also, contract administration, non-conventional methods of infrastructure.
MBA in Urban management and Smart City: Course Overview
Here is a brief overview of the course.
| | |
| --- | --- |
| Name of Course | Master of Business Administration (MBA) in Urban management and Smart City |
| Course Level | Postgraduate |
| Duration | 2 Years |
| Examination Type | Semester System ( 4 Semesters) |
| Eligibility | Graduation from any Recognized University |
| Admission Process | Entrance Exam and Counselling |
| Average Starting Salary | INR 1,00,000 to 8,00,000 |
Career Prospects:
There is a career scope for Infrastructure and Real Estate Management graduates in the following fields,
Facilities Management
Construction and Project Management
Real Estate Finance
Infrastructure Finance
Real Estate Investment Business
In India, University of Petroleum and Energy Sciences (UPES) is one institute where one can enrol into an MBA in Urban Infrastructure & Smart City. In this programme, one gets to learn in detail about Project Management & Contract Administration, Infrastructure Economics, Marketing Management, Accounting in Infrastructure Sector, Land Acquisition, Township Planning & Smart City, Road & Rail Metro Technology & Management, and Infrastructure Management. In recent years, UPES has established itself as a premier institute offering new-age and contemporary education in the realm of business administration. This course is highly specialised and is tough to find not only in India but across the world as well.
Also, the placements provided by the institute is in reputed across the industries. Students get to work on a wide array of diverse and engaging projects. There is also an internship programme, in which students get industry exposure at a young age. There are frequent industrial visits which help in an in-depth understanding of how this sector functions and development of students. UPES ensures to make their students future ready for every hurdle. The students are equipped with enough knowledge to make a difference and be noteworthy stakeholders in the Smart City solutions of India today.
With advancements and growing demand for technology in nearly every aspect of life, infrastructure is also going to subsequently change. Today, people are focusing on green buildings and environment-friendly ways of infrastructural development. In the coming future, we can only wish that people focus more on sustainable development and do good to society. Emerging fields like Urban Infrastructure & Smart City development are just a few steps towards a better tomorrow. The rapidly growing population is one of the critical factors which mandates the need for new and larger infrastructure.
Frequently Asked Questions (FAQ's)
What is the Smart City project in India?
Smart Cities Mission, commonly knows as the Smart City Mission, is an urban renewal and development program curated by the Government of India with the aim to develop 100 cities across the geography of the country, essentially making them citizen friendly and environmentally sustainable. The Union Ministry of Urban Development has been handed the responsibility for implementing the mission in collaboration with the various state governments of the respective cities.
What is the aim of a Smart City?
In the approach to the Smart Cities Mission, the aim is to encourage cities that provide primary infrastructure and give an above average quality of life to its inhabitants, a clean and healthy environment, and the application of 'Smart' Solutions. The focus is on stable and inclusive development and the idea is to identify compact areas, create a replicable model which will serve as an example to other aspiring cities. The Smart Cities Mission is meant to act as a model that can be replicated both within and outside the Smart City, propelling the creation of similar Smart Cities in differing regions and areas of the country.
What are the benefits of a Smart City?
Smart Cities offer a host of benefits, such as –
Air quality improvement and monitoring
Efficient energy usage and optimisation
Electricity, water, and waste tracking
Enhanced infrastructure and transport
What are the features of Smart City in India?
Some of the basic features expected to be inculcated into Smart Cities in India include –
Sufficient water supply
Reliable electricity supply
Sanitation and solid waste management
Efficient urban mobility and public transport
Affordable yet contemporary housing facilities
High-tech IT connectivity and digitalisation
Fair governance and citizen participation
What does urban infrastructure mean?
According to the Ministry of Urban Development, 'Urban Infrastructure' should be adorned with all the necessary facilities. It should offer an above average quality of life to its residents, promising a clean and sustainable environment by applying smart solutions in the areas of sanitation, waste management, public transport and governance.