What does the degree of an MBA equip you with? If we are to go by Sambhav Khetarpal's story of an MBA student, it helps you use the Guerilla Attack to get a roti quickly in a long queue at the hostel mess! Jokes apart, it's true that a degree will at most, only get you "the job" but it's actually the much underrated common sense that will help you do your job. And the story of Luv Khurana in "I too Had an MBA" conveys this beautifully.
The author has delivered a rib-tickling treat to readers in the form of his book. The book does not boast of high octane action or overdose of sentiments. It is rather a light and breezy work of fiction where the antics of the protagonist Luv Khurana are something that all readers will be able to relate with.
Luv Khurana won't advise you to pack yourself huge loads of luggage or hoards of books when you head for your MBA classes to your college in Mumbai. Rather among a few other interesting little things, he'll suggest you take along with yourself "swanky shorts and shades", a pair of each, because "Goa's not far!".
Book Blurb: I Too Had An MBA – The Secret Diary of Luv Khurana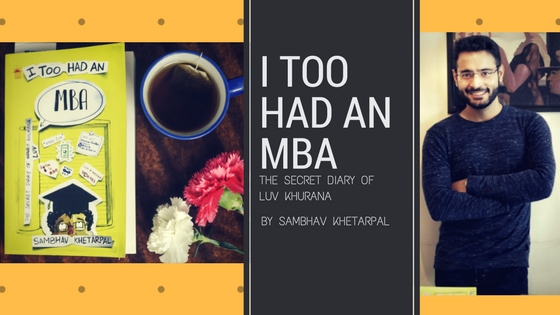 Ever wondered what it would be like to be a regular MBA student, from a regular MBA college, with regular aspirations, with a mother who wants him home every two months? This book will take you for a ride through the life of a rather naïve twenty-three-year-old Luv Khurana, who leaves his hometown Chandigarh for the very first time, to study management at HBS, the finest business school in the multiverse of Kurla East. What transpires next is a series of madcap events where Luv falls in kinky, passionate, and utterly one-sided love with his classmate; runs after the position of the Placement Committee president; starts a campus-venture called Ul-tee; and almost buys metal bed sheets to avoid getting murdered in sleep by his brawny roommate.
Luv is that genius, who will teach you how to take Mess-made Chapatis quicker, by applying Advanced Marketing Strategy techniques. Kotler Zindabad! Luv is also the MBA hero who can change the face of management education in this country if only, his Mummy made fewer phone calls to him every day.
While in the real world on this day, there are mammoth sized tensions across borders, the sharing of waters of Indus between India and Pakistan and the deliberation and compromises required for the same have been compared to the scenario between two hostel mates who share the line for drying laundry! That's the secret to survival in life, as most readers would agree.
Humour is an antidote to most of the toxins of everyday life. If one learns to see the events around him through humour-tinted glasses the going gets slightly easier.
To a layman hostel food tastes horrible and it makes him upset but to Luv Khurana, there is a joke in this scenario as well. He applies the mathematical theorem of direct and inverse relationship and exclaims that the quality of food in the mess is inversely proportional to the time one spends in the hostel.
The confidentiality regarding placement programme in the college campus needs to be preserved, so the 'CEO of Google' will rather be referred to as the "gangly dude from Manipal University".
Sambhav Khetarpal adroitly weaves a tale around college life and young adults in this slice of life story. It's true that this is not the first time that an author is writing a story in this premises but I too Had an MBA stands out for the humourous and purely contemporary and natural style of writing, a forte used excellently by Sambhav Khetarpal.
The author has lived up to his name by moving over a job which was "ideal" as per societal standards and by following his heart to produce an entertaining story that should appeal to the readers of all age groups alike.
About the Author – Sambhav Khetarpal
Sambhav Khetarpal is an MBA-turned- writer who left his high-paying FMCG job to pursue his love for writing humour. He dabbled in sports media for a while before moving back to his hometown where he heads content for an MBA prep portal. He prefers dogs to humans and reads Calvin & Hobbes when his boss isn't looking. His biggest achievements are memorizing the entire movie Lagaan, dialogue by dialogue, and forgetting his two-pound car outside a dentist. You can find him on Facebook, Twitter (@sam10aug) and of course Tinder.
PS: He is rich, cute and single.
PPS: He also has multiple delusions.
The book promises to be one hell of a ride!!!
Buy Luv Khurana's entertaining book at: http://amzn.to/2DbBFUd