There is the common question we often hear – why women do not want to wear a helmet? The question can rage a big debate so rather than what and why, here we try to evince our sisters that an accident doesn't spare anyone for gender privileges because women do not have heads of steel. Doesn't matter if you are a pillion and not a rider, the recent statistics have raised an alarm over the increasing number of deaths of women during road accident, especially while pillion riding. Why girl helmets.
Why you should wear helmet while driving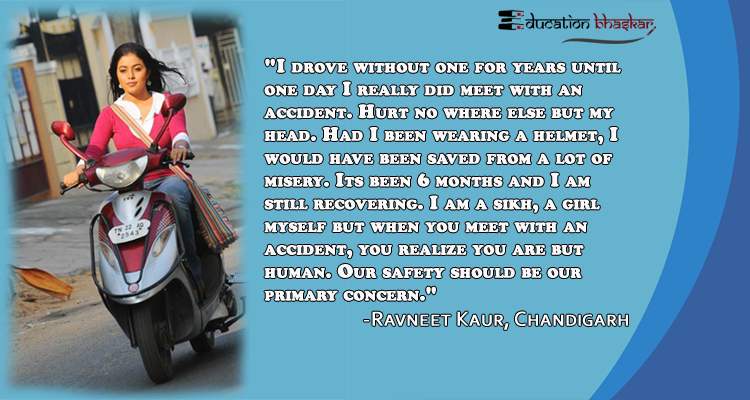 In 2016, about 936 people lost their lives in Delhi alone, because the were not wearing helmets and sustained severe head injuries that turned fatal for them. Another study done by the transport department showed that women riding pillion were the most vulnerable to injuries and fatalities during road accidents. In 2015, of the 705 two-wheeler riders who died in road crashes in Delhi, 47 were women who were riding pillion without wearing a helmet. India has world's one percent vehicle using population and the country accounts for world's 15 percent road fatalities. This shows the highly dismal tracks record of the contrary in the making driving safe on roads, poor traffic policies and implementation of road safety norms. Two-wheeler in Delhi accounts for 40% road fatalities, a figure that has only been going up in recent years. The data from various agencies strongly indicate that women riding pillion suffers from serve head injuries, more than that of drivers, and die because of these injuries.
What kind of helmet is perfectly safe for riding
Most helmets in the market, which are not branded, do not conform to the specifications by The Bureau of Indian Standards. As per Bureau of Indian Standards, "Ideal helmet" should be made out of strengthened carbon fiber that covers the head, neck and chin.

Most of the helmets sold cheaply by the roadside offer protection only against a fall from the static position or a skid. Riders strap on plastic headgear used in construction sites as a cheaper option. The helmets should be able to protect the head even if the Two Wheeler hits an obstacle at 60Kmph.

A good helmet can sustain an impact of 55kg Per sq cm. The helmet should cushion the skull, the neck and the chin for high impact within a fraction of second and not come loose. It should always have a visor and a strap which will hold the helmet until it is removed by the user.

Branded and effective helmets cost something between Rs. 1400 to Rs. 2000 whereas cheap and useless can be bought for as low as Rs 400
People need to understand that transport safety rules are made for public safety not to infringe their choice. Saving your life shouldn't me forced by law. Instead, people should realize their own responsibilities towards their loved ones.