The era of Nineties: Before taking a look into the book and the factors that have charmed the readers within a week of its release, let us walk down the memory lane into the Nineties when Tennis was a fad. Remember the era of Andre Agassi and Pete Sampras? The humongous fan following and the flurry the tournaments, Wimbledon in particular, created. That was the era of legends. An era of fandom. People were ready to give away their arm so that their favorite would win. There was this fierce fan loyalty at that time. Wild Card by Asfiya Rahman on amazon, bestseller sports fiction india.
Wild Card by Asfiya Rahman has tapped on the same emotion and fan loyalty and this one factor became the major game changer for the book.
What makes Wild Card a bestselling sports fiction
In India, the literary market is over-boarded with romance and horror genres and leaves very less scope for other genres to mark its presence. Especially, Sports was one category that was constantly overlooked. Coming up with a story that appeals to all the age groups and people from different backgrounds, was a task and Half Baked Beans did it with much elan. Sports and Literature always make a superlative combo, if put together nicely. With limited books on the sports genre, this fresh piece of fiction from Delhi based publication house, Half Baked Beans is a treat for all the sports and books-lovers.
Wild Card revolves around a Tennis Ball
Wild Card is the story of Karan Mehrotra, one of the world's best tennis players who suddenly disappear from the sports. Karan Mehrotra thinks he has it all. He is about to marry the love of his life, Riya and is on his way to win at Wimbledon, fulfilling a childhood dream of his. However destiny has other plans for him and he is forced to put aside his dreams when life throws a wild card at him. Eight years later destiny coyly lays another opportunity in front of him. Does he finally get another chance to fulfill his childhood dream or will he let his fear stop him from taking up the challenge? Find out how a tennis champion is forced to step away from his fame into obscurity and how a bossy little girl forces him to take up one of the hardest challenges of his life and face the life he had left behind.
The book has two more prominent characters, Riya and Roshni. But you will have to read the book to find out more about their bonding with Karan and what role they play in Karan's life. The book starts with Karan Mehrotra winning the Australian Open. He is considered the odds on favorite to win Wimbledon. As the Indian media felicitates him and questions him on his next target, he announces his upcoming nuptials to Riya, the love of his life. The story jumps forward eight years and we see Karan has settled into a domestic life. His world now revolves around Roshni who is paralyzed below her waist.
But who is Roshni? Where is Riya now? Will Karan win the tournament this time round?
The plot is crisp and does not let you sway away even for a second. That is the high point of any book.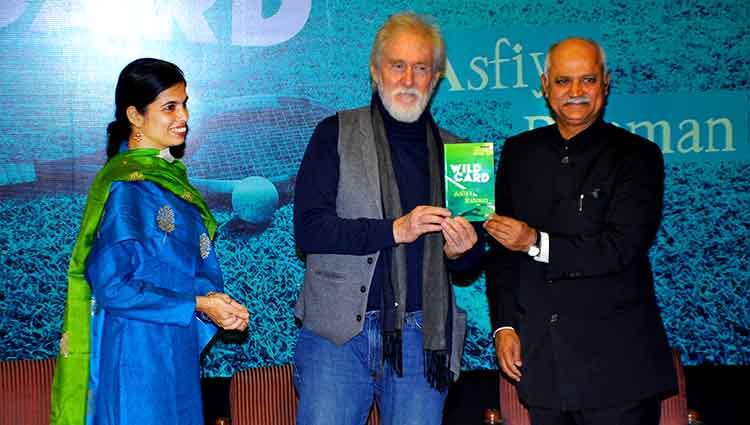 The Book launch was held at the India Habitat Center, on November 26th 2016 amongst the presence of some big names. Actor Tom Alter graced the event as the chief guest and Shri Zafar Iqbal, former Hockey Captain of the Indian Team was the Guest of Honor. With much pomp and show, the book was released and it was indeed a glorious event. This is one of a kind project where the publishing house has forayed into the Co-author Project model. This book has been conceptualized by Mr Chetan Soni, who contributed towards the story and the plot, which is beautifully penned by Asfiya Rehman.
Will the Wild Card by Asfiya Rahman be a national bestseller?
Well, it already is! Within a week of its release the book has grabbed the bestseller tag on Amazon. in.
Grab your copy here:
Buy Wild Card by Asfiya Rahman on Amazon