Are you fed up of bad company during college life or any other problems and trouble now and then, because you hang out with the crooks? It is never too late. You can stop being a part of the bad company right away. Friends can always influence you. When you first get into a group of friends, you cannot make out their real self. But if they tend to be a bad influence on you, watch out. College can introduce students to more independence and responsibility than they may be accustomed to. Since parents are no longer there to guide them, students are left to face risks on their own. For some students, this transition can be difficult. Students start to avoid their studies in such a phase, and when they find out ways of getting the pressure off their minds, they quickly bend towards the wrong company. Smoking, drinking, drugs, eve teasing, etc. is a regular feature of the colleges these days.
As they say, "If the character is lost, everything is lost," these things are completely wrong and should be avoided at the right time.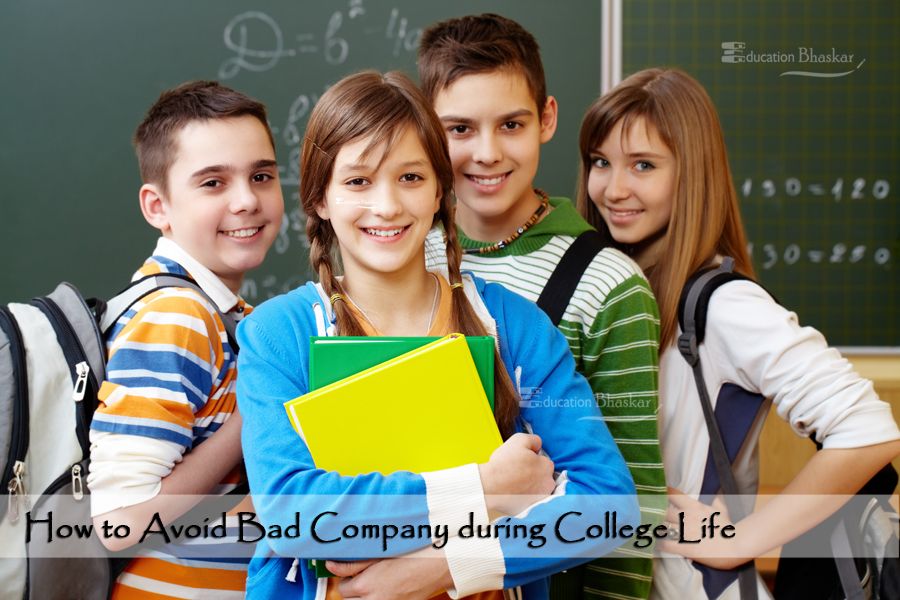 Here are some Tips to avoid bad company during college life
Monitor their Behaviour

Make an excuse

Advice them
Before you start hanging out with some particular students forming groups in college, do not hesitate to control their behaviour. If they involve in bad mouthing in school, are dependent on drinks, smoke or drugs, make sure you keep a safe distance with them. If you see this clan bullying around your classmates or other college students, be robust enough to turn your backs on them.
Also Read: How to Increase Your Confidence and Self-esteem – Improvement Tips
If at all, under any circumstances, you get in contact with these groups, start giving reasons like parents monitoring you, babysitting, and signing up for school events. The first thing you can do to avoid your bad company is to start refusing their invitations frequently. Make different excuses at different times. Eventually, they will start noticing your change. Even if they laugh it out or laugh at you, let go to a certain extent. This will be very much beneficial if you are falling for the wrong company or even if you plan on quitting on hanging up with them. They will be on your back once, twice or thrice. But, once when they get to know they are avoided, and you don't want to be a part of them, they will eventually let you go, and you will end up getting rid of them.
No person is perfect, and distractions are all around. Not every individual owns the equal amount of willpower, and so it is advisable to help the ones those who lack it. Being a part of the social world, it is your prime responsibility to make attempts in transforming the society to a better place to be in. If you once belonged to such company, and the group was on your friend's list, feel free to advise them on giving up on the bad habits. Confront your bad friends, give them advice. If they do not change, stand up for yourself without fear. Resist them if they force you to do things you hate doing. Even if you were never apart, still make an attempt. Every good deed done, gets counted some or the other time. But, also beware you do not push your decisions onto them in a wrong mannerism or pester them a lot.
People are also reading: How can you help your poor classmate?
Education Bhaskar knows that all tend to make mistakes and fall into bad hands during their teens and college days. But, this can anytime be avoided when you realize the repercussions of the same.