It is a cruel fact of life. The world is divided into the `Haves' and the `Have nots'. Meaning in this world there are well-to-do people who can afford to get access to food, clothing, education, healthcare, entertainment and several luxuries of life. These people have the money in their hand to buy or get access to all these things. At the same time, there are millions of poor people in the world who find it difficult to have just two proper meals a day. Help poor classmate is good. As for the other necessary basic amenities in life, well, for them it is just a luxury and a dream that they cannot afford.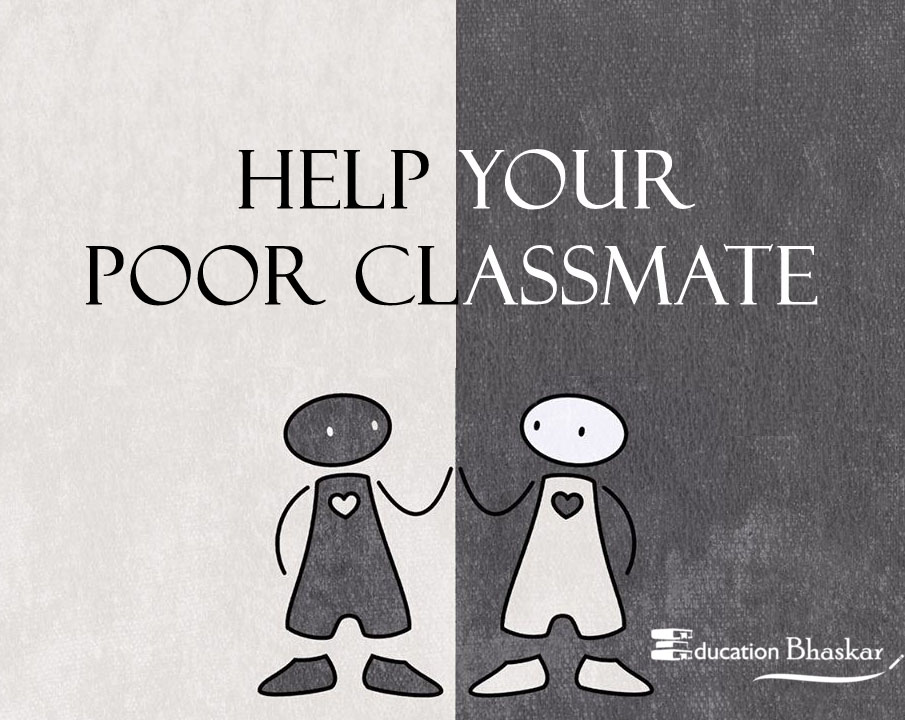 Therefore it is our moral duty to help the poor in whichever way possible. If the poor person happens to be our classmate, it is all the more our duty and responsibility to see that he does not suffer in life because of lack of money and resources. Many times bright students drop out of schools or colleges because they are unable to pay the required fee. If the poor classmate does not have money to pay fees, we must help him without expecting or ask for anything in return.
How can we help poor classmate ?
---
Well, we can start by ensuring that he has all the necessary books and notebooks required for the study. The student must not be deprived of the study if he does not have money to buy the study material. We can help the poor classmate by ensuring that he gets access to tuition classes if necessary and is able to study properly.
If the poor classmate has a healthcare, we can ensure that he gets proper medical treatment. Whenever the classmate is unable to afford proper nutritious food, we can share our food with him. Wherever he is good at sports, we can provide him access to coaching centres to hone his skill.
You can give moral support to the poor classmate by boosting his morale. But remember. Do these things as your service to humanity and never as a charity. Please always respect other people's sentiments, honour, and dignity.