About  Radha Soami Satsang Beas (RSSB):
Radha Soami Satsang Beas (RSSB) is a philosophical organisation based on the spiritual teachings of all religions and dedicated to a process of inner development under the guidance of a spiritual teacher.
In the Indian language, Radha Soami means 'lord of the soul,' Satsang describes a group that seeks the truth, and Beas refers to the town near which the main centre is located in northern India. Some other contemporary movements use the name 'Radha Soami' but Radha Soami Satsang Beas is not associated with any of them.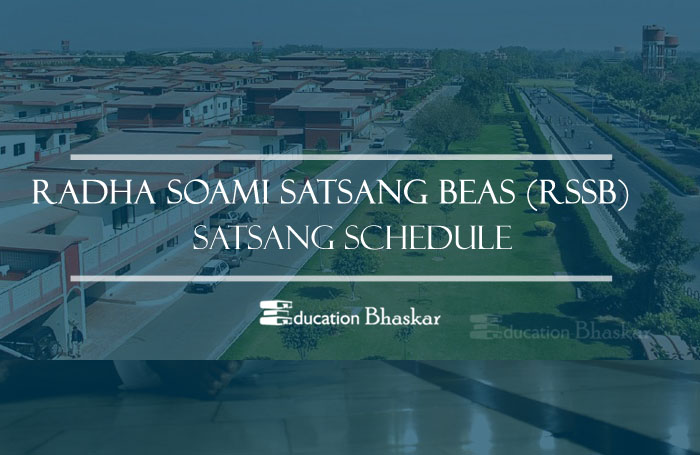 RSSB was established in India in 1891 and gradually began spreading to other countries. Today RSSB holds meetings in more than 90 countries worldwide. It is a registered non-profit society with no affiliation to any political or commercial organisations.
RSSB Designated Satsang 2018 (Dera Beas):
Month
Place
Day
Date
Time
FEBRUARY
Beas
Sunday
11, 18 & 25
10:00
MARCH
Beas
Sunday
18, 25
09:00
APRIL
Beas
Sunday
1
09:00
MAY
Beas
Sunday
13, 20 & 27
08:30
JULY
Beas
Sunday
1
09:00
SEPTEMBER
Beas
Sunday
2, 9 & 16
08:30
OCTOBER
Beas
Sunday
14, 21 & 28
09:00
DECEMBER
Beas
Sunday
2, 9 & 16
10:00

RSSB India Satsang Tour Programme 2018:
Month
Place
Date
Day
Time
JANUARY 2018
Raipur
20 & 21
Sat & Sun
09:30
Biaora (M.P)
23 & 24
Tue & Wed
09:30
Indore
27 & 28
Sat & Sun
09:30
FEBRUARY
Hyderabad
3 & 4
Sat & Sun
09:30
Saharanpur
6 & 7
Tue & Wed
10:00
MARCH
Jammu
3 & 4
Sat & Sun
10:00
Mumbai
6 & 7
Tue & Wed
09:30
Delhi
9, 10 & 11
Fri, Sat & Sun
09:00
Jamshedpur
13 & 14
Tue & Wed
09:30
MAY
Paror
5 & 6
Sat & Sun
09:30
JUNE
Solan
2 & 3
Sat & Sun
10:00
AUGUST
Bengaluru
18 & 19
Sat & Sun
09:30
SEPTEMBER
Delhi
21, 22 & 23
Fri, Sat & Sun
09:00
NOVEMBER
Rudrapur
3 & 4
Sat & Sun
10:00
 
Lucknow
6 & 7
Tue & Wed
10:00
Nagpur
10 & 11
Sat & Sun
09:30
Sikanderpur
17 & 18
Sat & Sun
10:00
Delhi
23, 24 & 25
Fri, Sat & Sun
09:00
Suratgarh
27 & 28
Tue & Wed
10:00
DECEMBER
Jaipur
22 & 23
Sat & Sun
10:00
Ahmedabad
25 & 26
Tue & Wed
10:00
Mumbai
28, 29 & 30
Fri, Sat & Sun
09:30
RSSB Satsang Programme 2018 Aborad:
Beas Naam Daan Schedule 2018
---
Naam Daan Registration Programme of Dera Beas and Major Centres: 2018, by Baba Gurinder Singh Ji
RSSB Official Website and Source: www.rssb.org