Who does not want to study in one of the Top Engineering Colleges in India? But, in the mid of the way to a good engineering college, JEE main and JEE advanced fall and passing these hurdles is not a cake walk. Joint Entrance Exam or JEE is an all India common entrance exam that is conducted for the admission to top engineering colleges in India. Colleges like IIT and ISM grant admissions to the students who have cracked JEE-advanced and for NITs, IIITs and other state-run institutes you have to get a good rank in JEE-main. With over 14 lakh students appearing every year for the exam, and only a few of them getting good ranks and admission in top colleges, JEE-main is considered as one of the toughest exams in the world. Most of the students who dwell well in 10+1 and 10+2 failed to get good ranks in JEE as JEE-main and advanced both are objective pattern exams. Here are some brilliant tips for the students who are aspiring their dream to be in a good engineering college hitting the cut off in JEE results.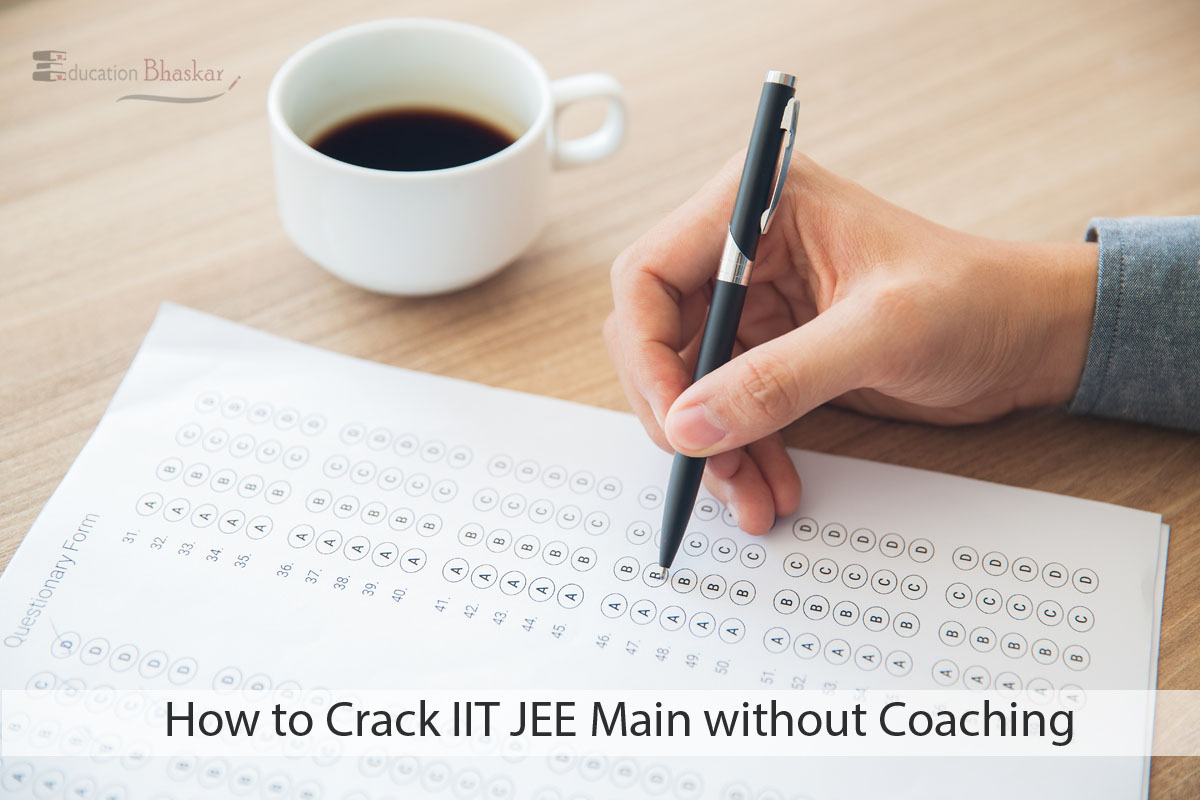 Want to be in Top Engineering College? Here are amazing tips & tricks on How to Prepare for IIT JEE Main Without joining Coaching centre:
Topper's advice to Crack Jee Mains Without coaching:
JEE main toppers say systematic study play a key role in cracking the exam.And says "In order to succeed, one must first believe that they can". The toppers believe that a smart routine of just 4-5 hours of study a day helped them achieve that feat, sincere efforts and hard work always yield exceptional results.

Attempt apparently all the basic concepts and then practice questions based on it

,

also should take a lot of mock tests and practice from sample papers as well as previous year's question papers

. 

This way aspirants can recognize weak areas and converted them into strengths by focusing more on learning concepts.

One must study sincerely and effectively, no matter whether it's only for 2 to 3 hours daily. On an average, study for 4 to 5 hours in a day. However, a month before the

JEE Main

exam, study for around 8 hours daily.

The most important thing is not to overburden mind with preparation. Even if you are studying for 2 to 3 hours, make sure that you put in your 100 per cent.

Proper planning and systematic study play a key role in cracking competitive examinations. Also, remember to keep calm during the test and give the best shot.

Though they say that there is no substitute for hard work, but hard work coupled with effective time management bring fruitful results says the toppers.

The champions believe that one must listen to his/her inner calling and when decided, must put every ounce of his/her being into accomplishing it.

 Strictly follow the curriculum given by the mentor. Diligently revise whatever is taught at coaching. Apart from school and coaching, study for around 4–5 hours daily.

Toppers tells Coaching is not necessary to crack JEE, but it brings punctuality and discipline in aspirants. Coaching also provides guidelines to a candidate for preparation. However, joining a coaching is always a personal choice of a student.

Always follow the heart while preparing for the exam and do whatever is required to crack the exam.

Aspirants must also manage their time during their preparation in a way that they allocate equal time to all the three subjects.

Develop an interest and explore the beauty of the subjects, it will not be a big deal to crack the exam.

 Along with school and coaching, make sure to keep some time for focused self-preparation.

It is important to keep calm during the hectic preparation phase and never get tired of putting consistent efforts.

Don't get demotivated by failures. Even if could not perform well at some point, always keep inspiration level high and give best next time.

Working hard for having conceptual clarity rather than cramming.

Keep on learning and practicing all concepts and topics that were being taught in school and coaching classes.

Aspirants can study NCERT books thoroughly as it will strengthen concepts and help in staying confident. Always keep faith in oneself.

Always try to remind that do not lose concentration. It is also very important to know strengths and weaknesses later always try to convert weaknesses into strengths.

Don't be nervous at any stage. Think that, you will get

Top Engineering college in India.

If willing to achieve, then will achieve it.

 Focus on clearing concepts is the key to success. 

Follow a simple strategy of revising and do not get relaxed after writing the exam. Take maximum one day gap and start preparing for the next level.

Revising what you have learned in the entire day.

Preparation gets easy when you revise what you have learned in the entire day, solve previous years, sample papers, which is important to get to know about the types of questions that are covered in the pattern.

The toppers emphasize on systematic study and equal importance to all the three sections – Physics, Chemistry and Mathematics – as these were the key factors of success in the exam. 

Coaching is a personal choice, whether one wants to go for it or not, for 

JEE Main

 you need to really have held on basic concepts.  If you are clear with concepts, then need not worry.

All aspirants not only aim for a good rank but strive to achieve the best. The best is to do is by getting your concepts right.

One should not get stressed while preparing for the exam. If someone wants to focus on only selected topics, they should make sure that they practice and revise those topics well.

Revision is necessary; it helps in clearing concepts.

One of the most important key to success is to understand the concepts. The concepts should be so clear that you can answer them no matter how twisted the question is.

Increasing speed and accuracy in solving problems.

Do not over-study, otherwise will get bored and depressed.

Never get demotivated by any failure, JEE preparation will be all about ups and downs, Maintain a positive approach and always stay self-motivated.
If you have any Question regarding IIT JEE Exam, you can write in comment section.
Good Luck to you,
Education Bhaskar