Central Board of Secondary Education conducted National Eligibility cum Entrance Test is scheduled to be held on May 10, 2018 or students aspiring to get admission in MBBS or BDS courses, offered by any government or private college of India. Around 11.38 lakh students appeared for NEET exam in 2017 while only 6.11 lakh students could qualify.
According to the order announced by the Supreme Court on April 28, 2016, there shall only be a single exam for admission into any medical course, therefore no other entrance exam can be conducted by any university or institute for admission into BDS or MBBS courses in the country.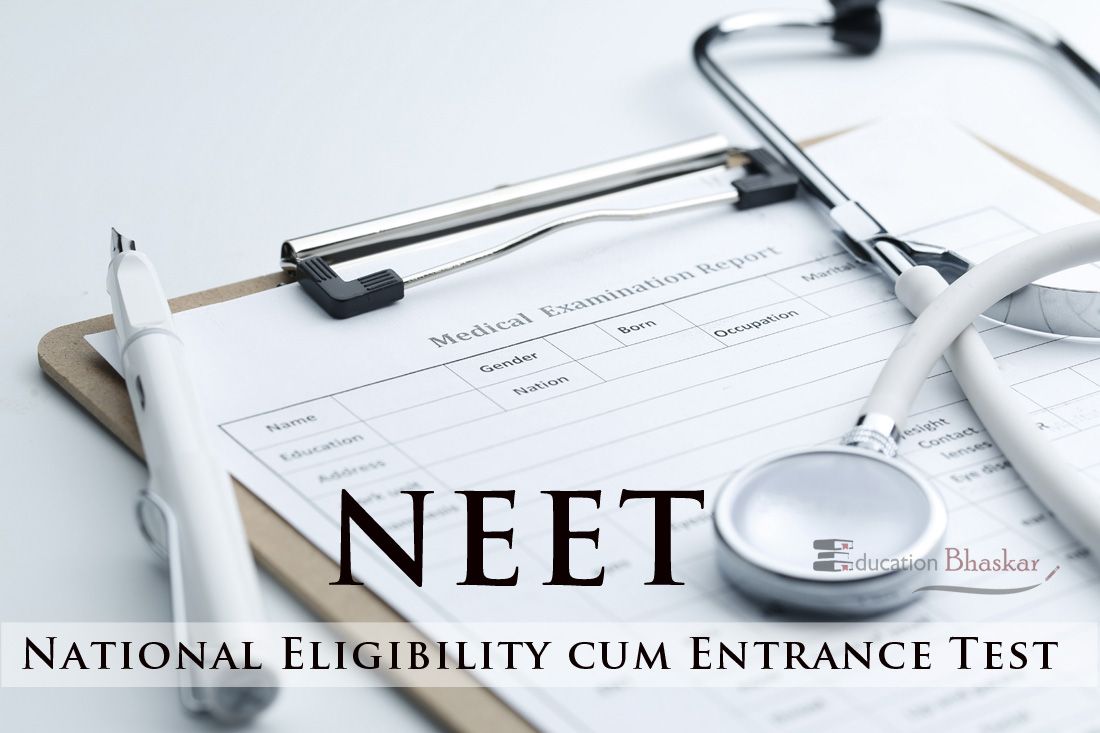 In this article, we would like to bring clarification to all query in the mind of our readers and aspiring medical students. The rest of the article details about the exam notification, dates, eligibility criteria, registration process, exam pattern and syllabus, the medium of instruction in the exam, documents required for applying and the whole lot of other information required.
Exam Notification and Exam Date
Earlier, NEET exam was known as All India Pre Medical Test (AIPMT). Other exams which aspiring medical students can attempt are Jawaharlal Institute of Postgraduate Medical Education & Research (JIPMER) and All India Institute of Medical Sciences (AIIMS). NEET 2018 notification is likely to be released in January 2018 by CBSE. Candidates must keep a check on the official website for any updates.
Eligibility criteria
A student must pass/appear for 12th Board Exam with subjects Biology, Chemistry and Physics and English as a compulsory subject from any recognized board with minimum 50%marks for general category and 40% for OBC/SC/ST category.
The minimum age for application is 17 years as on 31st December of the year of admission. The maximum age of the candidate for appearing for NEET was 25 years. However, with Supreme Court's intervention last year, this has been removed. At present, there is still a requirement of clarity for the upper age requirement.
How to fill NEET Application Form?
Visit the official website of CBSE NEET and click on 'Apply Online'. Before filling the application, carefully read the instructions regarding the requirements, documents, and payment. On completion of registration, you shall get a system generated registration number which must be noted for future reference.
Now you will be directed to fee payment session where you can select the mode of payment, i.e. online or offline mode and make necessary payment as per the category GEN/SC/ST/OBC/PH. On successful payment of the fee, you will receive an online generated confirmation slip else the application submission shall stand cancelled. We request you to save your login credentials for further references.
Documents Required
Aadhar card is now compulsory for candidates applying for CBSE NEET. Candidates who do not possess a valid Aadhar card must apply for the same. Mark sheets of the 10th and 12th class will also be required. Candidates belonging to SC/ST/OBC category must have their caste certificate.
Exam Pattern and Syllabus for NEET-18
The paper consists of 180 objective type questions to be answered in a 3 hours duration. The question paper consists of three sections Physics, Chemistry, Biology (Botany and Zoology). There shall be 45 questions each in Physics and Chemistry section and 90 questions in Biology.
Physics from Class XI and Class XII- Physical world and measurement, Kinematics, Laws of Motion, Work, Energy and Power, Motion of System of Particles and Rigid Body, Gravitation, Properties of Bulk Matter, Thermodynamics, Behaviour of Perfect Gas and Kinetic Theory, Oscillations and Waves.
Electrostatics, Current Electricity, Magnetic Effects of Current and Magnetism, Electromagnetic Induction and Alternating Currents, Electromagnetic Waves, Optics,  Dual Nature of Matter and Radiation, Atoms and Nuclei and Electronic Devices.
Chemistry from Class XI and Class XII- Some Basic Concepts of Chemistry, Structure of Atom, Classification of Elements and Periodicity in Properties, Chemical Bonding and Molecular Structure, States of Matter: Gases and Liquids, Thermodynamics, Equilibrium, Redox Reactions, Hydrogen, s-Block Element, Some p-Block Elements, Some Basic Principles and Techniques, Hydrocarbons, Environmental Chemistry.
Solid State,  Solutions, Electrochemistry, Chemical Kinetics, Surface Chemistry, General Principles and Processes of Isolation of Elements, p- Block Elements, d and f Block Elements, Coordination Compounds, Haloalkanes and Haloarenes, Alcohols, Phenols and Ethers, Aldehydes, Ketones and Carboxylic Acids, Organic Compounds Containing Nitrogen, Biomolecules, Polymers, Chemistry in Everyday Life.                     
Biology from Class XI and Class XII– Diversity in Living World, Structural Organisation in Animals and Plants,    Cell Structure and Function, Plant Physiology, Human physiology.
Reproduction, Genetics and Evolution, Biology and Human Welfare, Biotechnology and Its Applications, Ecology, and environment.
Medium of Instruction in NEET 2018
Students can choose to appear in the exam from eight languages that include English, Hindi, Tamil, Kannada, Telugu, Marathi, Gujarati, Bengali, Odia, and Assamese. It should be taken into note that vernacular language option is provided for candidates appearing from that particular state or region. For example, a student can attempt the paper in the Tamil language if he/she is attempting the exam from Tamil Nadu state and likewise.