JEE is one of the toughest competitive exams in India and is attempted by millions of students every year. It is a mandatory exam for anyone who wants to pursue engineering in India from any of the IITs. Everyone is aware of JEE, and its role in a student's life who dreams of becoming an engineer. Getting a good score is essential if a student wants to get admission in top IITs and NITs. They are premier educational institutes that offer world-class education and are consistently rated as the gold-standard for technical knowledge.
When preparing for JEE, students choose different modes of study ranging from online to offline and employ a host of strategies. Some rely more on NCERT textbooks while others go full-swing and focus on difficult books. There is no wrong or right way to prepare for JEE 2019; however, there are some practices that are followed by almost all students, especially toppers. For exams like JEE, it is essential to solving maximum questions and get familiarised with the idea of how the question paper is set. Solving these papers make a student more agile at the time of writing the exam.  Furthermore, it was announced recently the newly formed NTA (National Testing Agency) will be conducting JEE (main) twice a year. The exam will be held in an online mode, in January and April, according to the notification.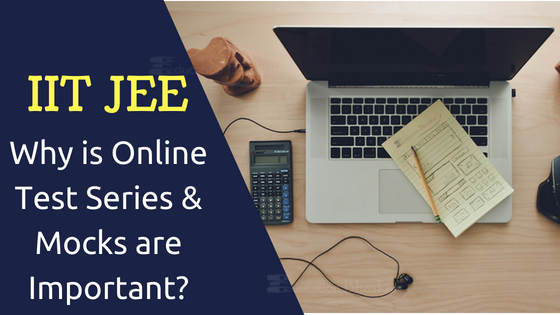 Why is Online Test Series & Mocks are Important for
IIT JEE 2019 Preparation?
JEE online test series is a set of mock test papers that are prepared as per the difficulty level of JEE. Appearing in these papers improves the overall preparation and increases the chances of getting a good score. Let us take a closer look at the importance of test series in IIT JEE 2019 preparation.
Acquaints You With The Exam
Appearing in JEE online test series is the ultimate way to familiarize oneself with the actual JEE 2019 exam pattern. Questions are set in a similar fashion to that of the real exam. It also helps students gauge the exam pattern, syllabus, difficulty level, and even expected the type of question in JEE 2019.
When students appear for JEE online test series, they are simulating the real-life exam hall situation. Solving these papers is a great way to frame the mindset for JEE 2019. It pushes students to think out-of-the-box and comes across situations that might not be apparent otherwise. It adds a particular pressure on the students and forces them to handle such a situation in real-time.
Solving mock tests, samples papers and appearing in JEE online test series is an excellent way of practicing for JEE 2019. The questions in the test series have a similar difficulty level, and students get to attempt questions that were previously asked in JEE exams. Also, every mock test or paper in test series carries the same pattern and time limit as the actual JEE exam which acquaints students with the intricacies of the exam.
Post-Performance Analysis
Appearing in JEE online test series is the ultimate way to gauge your performance level. It tells students where they stand with their preparation and where they should focus. Having a bright idea about your performance is necessary to lay down realistic expectations and goals. Furthermore, JEE online test series like the one from Aakash iTutor provides students with the chance to appear in AIATS (All India Aakash Test Series) which is a one-of-a-kind test conducted at an All India Level. Students who appear in this exam can check their performance on an All India Level to see where they stand.
Most students believe that solving mock test papers is only about understanding the exam pattern. Even though this preconception is mostly right, but it is not just about that. When students appear in JEE online test series from Aakash, they open avenues to new ways of solving a problem. Students may find new, exciting and faster ways of applying concepts to a problem.
Rather than only learning a subject or topic, students should always include mock tests as a part of their preparation strategy.  It will help in determining weaknesses and strengths so that necessary steps can be taken for improvement. Solving as many papers as possible is advisable for students as they will be better prepared to take on JEE 2019. It will help in improving paper solving speed also. Make use of online learning platforms like Aakash iTutor to give your preparation a solid backing!