Like the dreaded "Tell me about yourself," the question, "Why are you interested in this position?" is sure to come up in an interview. And, even if it doesn't, if you want the job you should get this sentiment across regardless. So, really, there's no way around figuring out how to string together a coherent thought about why this being in this position makes sense for you (and for the company). Luckily, there's actually a pretty simple way to go about answering this question effectively without having to go through every big moment or transition in your life and career that's brought you to this interview. Education Bhaskar will guide you how to answer the toughest job interview Questions ?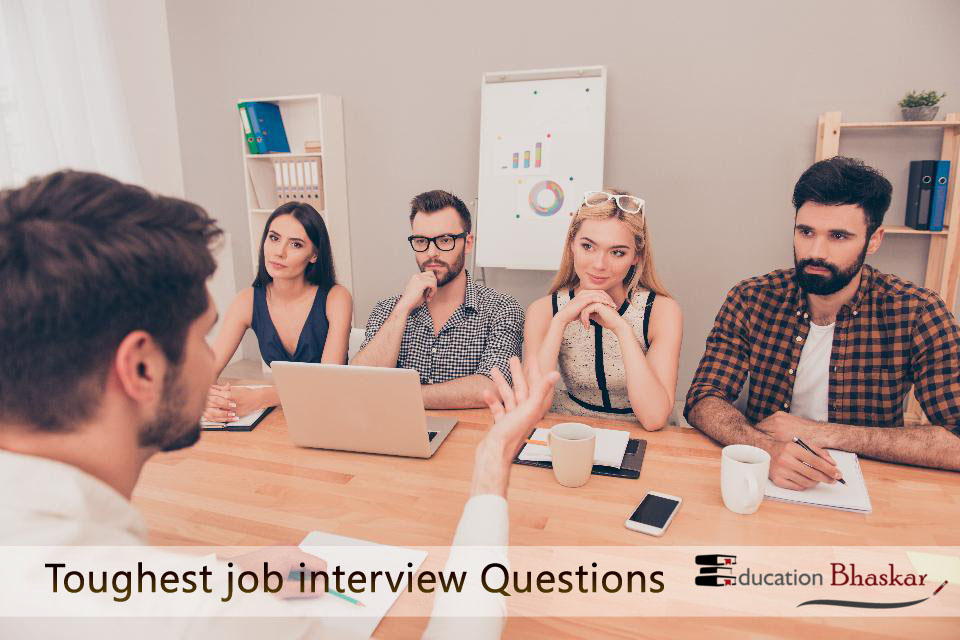 Here's a smart framework for how you should structure your answer to the toughest interview questions:
Step 1: Express Enthusiasm for the Company
First things first, this is an excellent opportunity for you to show off what you know about the company. You can talk all day about how excited you are about joining the team, but nothing will trump actually knowing a thing or two about the place you're interviewing with. So, to prepare, spend some time honing in on what you know about the company and select a few key factors to incorporate into your pitch for why you're a good fit.
Especially with smaller companies, it's always impressive when a candidate knows a thing or two about what goes on at the company. And the best thing about this is you rarely have to go beyond reviewing the company website or having a quick conversation with a current or past employee to learn enough to sound like you've been following the company for a while.
Step 2: Align Your Skills and Experiences With the Role
Next, you want to sell why, exactly, you're right for the role. There are two ways you can do this: You can either focus more on your experiences or your skills. Try to pinpoint what the main part of the role entails, plus a couple of the "desired skills" in the job description, and make sure you speak to that.
Keep it short—you'll have plenty of opportunities to talk about how you got your skills or relevant stories throughout the interview—and just focus on highlighting a couple key relevant abilities or experiences for the position.
Step 3: Connect to Your Career Trajectory
Finally, you want to show that the position makes sense for where you're going in your career. Ideally, you won't give the impression that you're just using the position as a stepping stone. Show that you'll be around for the long haul, and your interviewer will feel more comfortable investing in you.
Of course, you don't have to state specifically that you see yourself in the position for a long time. Just show that you've given some thought to how the job makes sense for you now and that it continues to make sense for the foreseeable future.
String these three components together, and you have a response that will impress on three fronts: your knowledge and enthusiasm for the company, your relevant skills, and your general fit with the position. Plus, this framework has the added benefit of not stopping the flow of the conversation the way going through your entire life story would.
 How to Prepare for a Job Interview
7 Toughest Job Interview Questions
---
There are the basic interview questions that almost every hiring manager asks. There are also interview questions that are much more challenging to answer. Some are trick questions, others are designed to put you on the spot to see how you react, and others don't have a right or wrong answer. With those, how you respond is as important as what you say when you answer. Here are some of the toughest interview questions that employers ask, along with advice on how to respond and sample answers.
Question 1: Why Should I Hire You?
The most overlooked question is also the one most candidates are unprepared to answer. This is often because job applicants don't do their homework on the position. Your job is to illustrate why you are the most qualified candidate. Review the job description and qualifications very closely to identify the skills and knowledge that are critical to the position, then identify experiences from your past that demonstrate those skills and knowledge.
Read Full Perfectly Answered:   Why Should We Hire you?
Question 2: Why Is There A Gap In Your Work History?
Employers understand that people lose their jobs and it's not always easy to find a new one fast. When answering this question, list activities you've been doing during any period of unemployment. Freelance projects, volunteer work or taking care of family members all let the interviewer know that time off was spent productively.
Question 3: Tell Me One Thing You Would Change About Your Last Job
Beware over sharing or making disparaging comments about former coworkers or supervisors, as you might be burning bridges. But an additional trouble point in answering this query is showing yourself to be someone who can't vocalize their problems as they arise. Why didn't you correct the issue at the time? Be prepared with an answer that doesn't criticize a colleague or paint you in an unflattering light. A safe scapegoat? Outdated technology.
Question 4: Tell Me About Yourself.
People tend to meander through their whole resumes and mention personal or irrelevant information in answering–a serious no-no. Keep your answer to a minute or two at most. Cover four topics: early years, education, work history, and recent career experience. Emphasize this last subject. Remember that this is likely to be a warm-up question. Don't waste your best points on it. And keep it clean-no weekend activities should be mentioned.
Question 5: What Would The Person Who Likes You Least In The World Say About You?
Highlight an aspect of your personality that could initially seem negative, but is ultimately a positive. An example? Impatience. Used incorrectly this can be bad in a workplace. But stressing timeliness and always driving home deadlines can build your esteem as a leader. And that's a great thing to show off in an interview.
Question 6: What's The Biggest Risk You've Ever Taken?
Some roles require a high degree of tenacity and the ability to pick oneself up after getting knocked down. Providing examples of your willingness to take risks shows both your ability to fail and rebound, but also your ability to make risky or controversial moves that succeed.
Question 7 : Describe A Time When Your Team Did Not Agree
Questions pertaining to difficulties in the past are a way for employers to anticipate your future behavior by understanding how you behaved in the past and what you learned. Clarify the situation succinctly and explain what specific action you took to come to a consensus with the group. Then describe the result of that action.
This is also useful in Interview:   10 Easy Steps on How to Speak English Without Hesitation
Stay Tuned !
Education Bhaskar