Getting a good score in all the sections will not only increase your chances of qualifying SSC CGL Pre, but it will also put you in an advantageous position for the mains exams. In reasoning section, you don't need to remember any formulas or shortcut methods. The pattern of questions which are asked in reasoning section is fixed. In this article, we will show you some tips and guidelines to help you get a good score in this section.
Reasoning Preparation Strategy
Assessment: Before making a study plan, you must make your personal assessment by taking up at least two to three mock tests. This will help you your weak areas and allot time accordingly.
Practice math and reasoning in the evening:  For practising math and reasoning evening time is best. Though it is true that taking constant breaks and relaxing boost your output and productivity, but it is also true that in order to increase your capacities/endurance you must push your boundaries and practice when you are most tired.
Aim for the stars, if you want to reach the moon!
Practising high-level reasoning questions asked in other exams like SBI PO, CAT is also an effective strategy to develop your reasoning skills.
Regular practice: As the pattern of questions which are asked in this section is fixed, you can increase your speed and accuracy by practising these questions daily.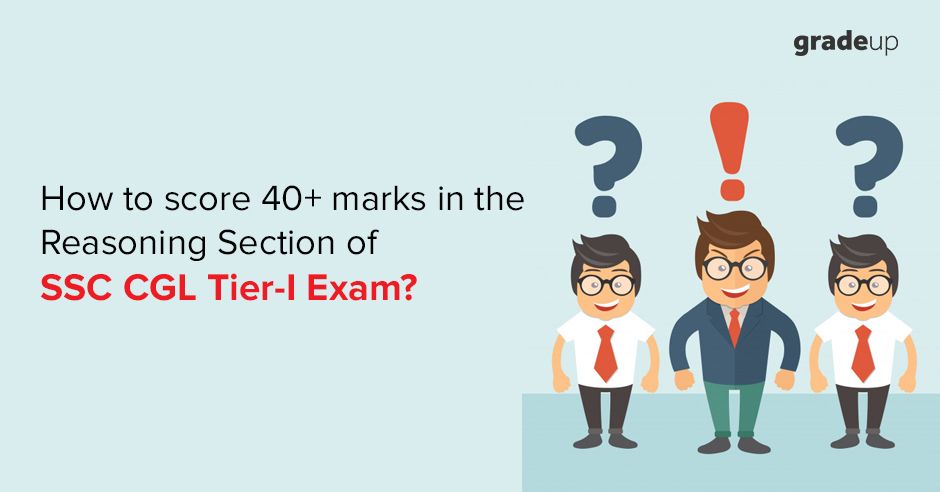 How to Prepare to Crack SSC CGL Online Reasoning Section:
Reasoning in SSC CGL Tier 1 comprises of 25 questions and we need to focus on all questions to score well. Reasoning section having 3 types or categories.
High Level
Visual Reasoning
Verbal Reasoning
Let's learn more about these types or categories:
High-Level Reasoning: It contains topics like Syllogism and Statement Conclusion. This section may look easy but it is little time-consuming. So keep eyes on time while solving these type of problems.
Visual Reasoning:

 It covers topics like Dice, Figure completion, Counting of figures, Rule Images, Detection, Pattern Completion, Water Image, Mirror Images Figure Matrix, Paper Folding, etc. This section is is easier.

Verbal Reasoning:

 It contains topics like Ranks, Series, Direction, Coding-Decoding, Arrangement, Analogy, Classification/Odd Pair etc.
SSC CGL Reasoning: Important Topics and Preparation Tips & Tricks
Following are some commonly asked topics along with some tips and guidelines to solve them.
Series-based questions: These questions can be solved in an instant or they can be very time-consuming. Don't spend too much time on these questions if you are not able to get the logic behind it. Mark if for review so that you will be able to get a second chance in case you finish the paper early.
Puzzles and sitting arrangement: In SSC CGL exams

moderate level puzzles are asked. They may be time-consuming but rewarding as you get three to four correct answers in return.
Tips:
(i) While reading the puzzle pay attention to the entity (person etc.) that is most repeated in the puzzle and start solving the puzzle taking that entity as the reference point.
For example,
Seven persons, A, E, I, O, U, B and C are sitting in a straight line facing north (but not necessarily in the same order.) U sits third from the right end. E sits third to the right of C, who is not an immediate neighbor of I or A, who sits third to the left of O, who is an immediate neighbor of C. U sits between O and E, who sits on the immediate left of I. Neither E nor B sits at any end of the line. There is only one person to sit between I and U but that person is neither C nor B.
Since U is the most repeated entity, we will start the puzzle by arranging U first.
(ii) Coding the information given in the form of sentences and writing it down on your sheet helps you keep track of the information that is provided and avoid re-reading.
For example, E is sitting third to the right of C can be written as,
C → 3r →E.
(iii) You can also use the cursor of your mouse to keep track of the sentences that you have already read in the puzzle as sometimes you have to switch you back and forth between the screen and your sheet. This strategy is helpful in avoiding rereading or skipping any sentence.
 Coding/Decoding: These questions involve determining the code of a particular word by cancelling out the common words or by finding out some logic that has been used to code the word.
It will be very helpful to solve such questions if you memorize the place value and the reverse of each alphabet of the series.
| | | | | | | | | | | | | | |
| --- | --- | --- | --- | --- | --- | --- | --- | --- | --- | --- | --- | --- | --- |
| Alphabets -> | A | B | C | D | E | F | G | H | I | J | K | L | M |
| Ranking -> | 1 | 2 | 3 | 4 | 5 | 6 | 7 | 8 | 9 | 10 | 11 | 12 | 13 |
| Reverse -> | Z | Y | X | W | V | U | T | S | R | Q | P | O | N |
| | | | | | | | | | | | | | |
| --- | --- | --- | --- | --- | --- | --- | --- | --- | --- | --- | --- | --- | --- |
| Alphabets -> | N | O | P | Q | R | S | T | U | V | W | X | Y | Z |
| Ranking -> | 14 | 15 | 16 | 17 | 18 | 19 | 20 | 21 | 22 | 23 | 24 | 25 | 26 |
| Reverse -> | M | L | K | J | I | H | G | F | E | D | C | B | A |
Syllogism: If you understand the common rules of Syllogism, solving thee questions becomes quite easy. Under the syllogism questions, one needs to make use of Venn diagrams in order to the establish the relationship between different given entities/ statements.
Students should also be prepared for the new pattern based or reverse syllogism questions, where the conclusions are given in the question and the students need to identify the correct set of statements which are in accordance with the given conclusions.
Direction Based: These questions involve an entity (person or an object) moving in two-dimensional space and following different directions. In order to avoid error in these questions, it is important to draw a correct diagram, as most of the candidates get confused between left and right, east and west or between clockwise and anticlockwise It is also one of the easiest topics in reasoning section.
Blood relation: In the blood relation-based questions, students are required to understand the relationship between the different family members based on the given information and determine relations among others accordingly.
So, to solve these questions with easy, you can assign different symbols like squares/ circles/ +/ – etc for male/ females/ couples/ brothers/ sisters etc. and solve the question using them.
Make it fun: For non-verbal reasoning questions like the mirror image, dice, cutting pattern etc. you can practice with real-life 3D objects, which will enable to understand better. For example, try to imagine how an object will look like if a mirror is placed in front of it, then make an outline of that object and cross-check your answer by actually placing the mirror in front of that object. Similarly, you can practice with a real dice by imagining the orientation of a particular face after flipping or rotating it in a particular direction.
How to Prepare for SSC CGL Reasoning – Suggested Books
You can also take the help of these books because these books can change your way of thinking.
| | |
| --- | --- |
| Book Name | Author or Publication |
| Analytical Reasoning | M K Pandey |
| Verbal & Non-Verbal Reasoning | R S Aggarwal |
| A New Approach to Reasoning Verbal & Non-Verbal (English) | B S Sijwali, Indu Sijwali |
| Logical & Analytical Reasoning (English) | A K Gupta |
| Verbal & Non-Verbal Reasoning (Hindi) | Kiran Publication |
Download SSC CGL app in Hindi, and get free study material, notes, quiz, mock test, & previous year question papers of SSC CGL exam.
Please also check our NCERT Solutions app which we have launched recently for Class 6 – Class 12.