When you head for an interview, there would be many questions interviewer can ask about your qualifications, your past experience and all that you have written in your CV. Anyone with a good confidence can answer all the question they shoot, but there are some puzzling questions that you should answer carefully as what you say matters most while they consider you for a job. " Why Should We Hire You ? " is another bewildering question that every recruitment agency spins to judge your approach towards your career and future. A little mistake can drag you down the track. Here is how you should answer "Why Should We Hire You?"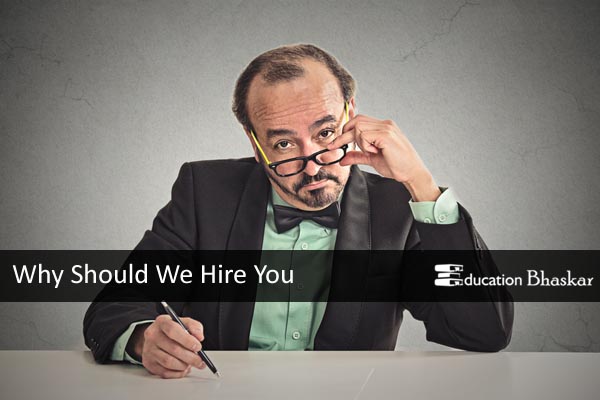 This question is simply about how and what you offer for the company. Consider yourself as a product, and assume how do you sell it. If you are a fresher and have no job experience then consider it as why someone buys a product that is new in the market and has no brand value. Now relax and read how to sell yourself.
When a company asks you this question, it really inquires "What would you be able to accomplish for us?" Be precise with your words and tell them how your abilities can profit their organization. Offer your skills to secure the job. You can also explain your skills and talents evincing some examples about your problem-solving traits and show up with a critical thinking process.
Every product has it's own Unique Selling Point (USP). When you try to persuade them to but you, apart from pouring the basic skills and knowledge tell them that one magical talent that you have attained in your lifetime. More the crisp detail you give, the better your answer will be. This is not an opportunity to discuss what you want in your life, this a chance to tell them what makes you exceptional. Set aside some opportunity to consider what distinguishes you from others.
How can you sell yourself:
All that really matters in an interview is, "the thing that would you be able to accomplish for their organization?" Start with the job description you are applying for. What are the challenged that company might be facing with this role and what would you do to take care of business? This needs a little research. Make a rundown of those prerequisites. Then figure out what you bring to the table from that set of skills. Consider a few key qualities you bring to the table that match with the employer's requirements they are looking for. Try not to think little of individual attributes that make you interesting; your vitality, identity sort, working style and relationship building abilities are all extremely pertinent to any organization.
Final Thought:
Tell the interviewer that you have carefully observed their company hierarchy and the issues company might be facing and  demonstrate how would you lead the game taking responsibilities as their trouble-shooter. When you answer -Why Should We Hire You, assume that this is your attempt to close the deal. It should be close to two minutes in length, crisp in details, precise in the words and should push the qualities that make you the best buy in their shopping cart.
Also read: Laws of life – Smile To Conquer The Word