Many of think that How to become Journalist. Dear aspirants, Journalism has always been a great career and will remain so in future as well. Journalism as a career is thrilling, competitive, and comes with great responsibility. It is one of the most prestigious careers one can get today. Students after pursuing their Mass-Communication degree programs stand the chance of getting jobs with news channels, nowadays newspapers and with leading PR agencies. There are also chances that day might get paid internship in these organisation. A lot of students are getting attracted to nowadays. This is mostly due to the fact that career in Journalism can be challenging as well as highly rewarding. Although some might confuse mass communication with journalism, but as the name suggests mass communication is all about disseminating information to the masses at local, hard-working national or international levels with or without a necessary intent. Mass communication widens up the horizon of career options for a person. A professional course in mass communication makes build opportunity in journalism, TV, films, radio announcer, radio jockey, video jockey, public relations, editing, direction, film-making, script-writing, production, etc.
If you are hard-working, a career in journalism will endow you with an excellent salary and perhaps even fame. With the growing importance of the media today, the opportunities in this field are numerous, and the job is also very demanding and exhilarating at the same time.
What is the meaning of Mass Communication?
Mass communication is a study of how a person, group of people, or an organization relay information through the channel of communication to large segments of anonymous and heterogeneous people and organizations at the same time.  It is a field that has the wide scope of work. Under the area of mass comm., the main task is broadcast and spread the information throughout the world, Channels of communication includes Radio, TVs, films, social media, newspapers, anything. Mass Comm. is an expensive process and Unlikeinterpersonal communication, feedback for mass comm. is slightly slow & indirect.
What does it take to be a Journalist?
A bachelor's degree or post-graduate degree in journalism/mass communication is necessary to pursue a career in journalism. Being brutally honest In journalism, the more experienced and senior you become the more your value goes up. Of course, additional course work, specialized training, etc. can add to your skills. Minimum eligibility for the bachelor degree in journalism is 2 and for P.G. Degree course, a bachelor degree in journalism. Many universities offer PG diploma courses in journalism. You need to think and realize which one is suitable for you and choose the path according to that. Many publishing houses including the Indian Express, or iTV School of Media and Management of India news network, etc. Conduct six months to one year newsroom classes for budding trainee journalists. A professional course in mass communication open door for a career in Journalism including many.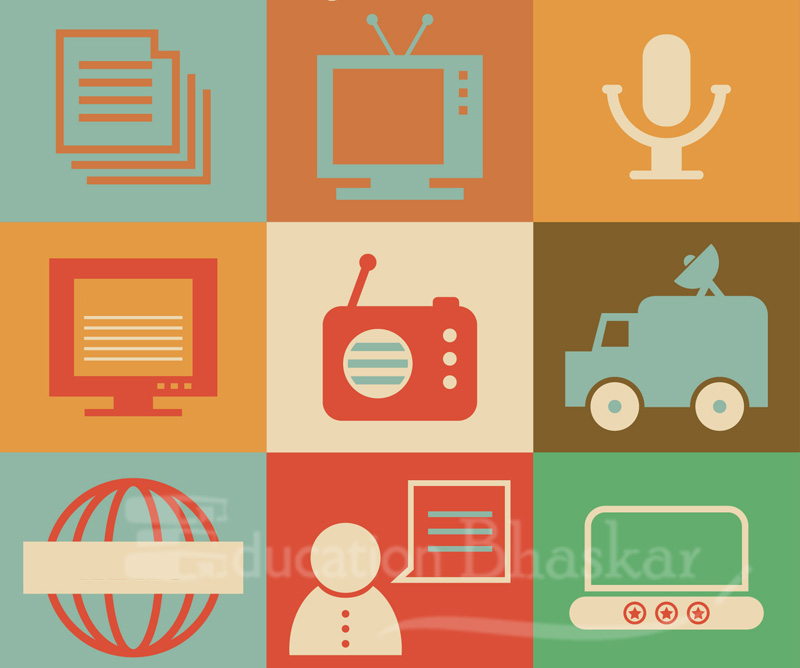 Career Opportunities in Mass Communications -Scope:
In today's fast-paced world, our modes of access to media is not limited to newspapers alone. The television and the internet insurance that you get comprehensive details of all that is happening in the world with tremendous speed and accuracy. The area has a lot to offer when it comes to career options. Mass-Communication graduates can look forward:
Radio or TV Announcers

Reporters

Public Relations, PR Specialists

Editors

Journalism, Journalists

Writers and Authors

Films

Teaching- Professor or School Teacher.
These above are the high paying jobs in this field which can you get after doing this course. After getting more experience,  you may start up in Marketing Directors as well as Communications Directors. You also go for other degree programmes such as Advertising, Health Communication, etc.
People are also reading: Best Time management Tips for Successful Career
Pros and Cons:
Just like other career opportunities, Mass Communication also has both Pros as well as a flip side. The career in this specialized field demands dedication, commitment as well as the sacrifice towards work, demands time utilization to reserve top position, especially in news media line. to get breaking news, journalists have to work hard day and night. Likewise, In Film industries or entertainment, to work with passion media professionals need to come out into dramatic life. 
In fact, in this career, anyone can get name and fame, a satisfying job opportunity, and challenging life with adventures.
Top colleges for Mass Communication and Journalism degree in India
Symbiosis institute of mass communication, Pune
AJK Mass Communication Research Center, Jamia Millia Islamia, New Delhi
India Institute of Mass-Communication, New Delhi
Asian College of Journalism, Chennai
Makhanlal Chaturvedi National University of Journalism and Communication, Bhopal
Xavier Institute of Communication (XIC), Mumbai
Indian Institute of Journalism and New Media, Banglore
#Trending Topic: List of Fake Universities in India 2017 declared by UGC
Top Companies
Hindustan Times (HT) Group of Publication

BBC

Times of India Publication Group

NDTV Network

Zee TV Network

Viacom

TV 18 Group

Big Entertainment and numerous others.
Good luck to you!
If you have any question and suggestion related to Career, Mass Communication, Journalism or any other, please comment below.