The consequences of submitted plagiarized information are severe irrespective of the purpose for which the submission is being done. Copying content means that you are using information owned by someone else. It is very similar to walking in someone's house without proper permission. Even if you are accessing an online source to use content, certain ethics have to be maintained. For instance, proper rephrasing is very important. To achieve that, students can get help from prepostseo to perfectly compare their writing documents to avoid any plagiarism.
Why is a plagiarism comparison tool so significant?
Can you afford to take chances with content originality? The answer to this question is no. An academic assignment would be counted as plagiarized whether one line or the entire content has been copied. In an overall manner, it can be said that there is no room for errors when it comes to plagiarism. It is possible to check the content without the use of a tool but this option is not reliable by any means. This can always be skilled during the proofreading process.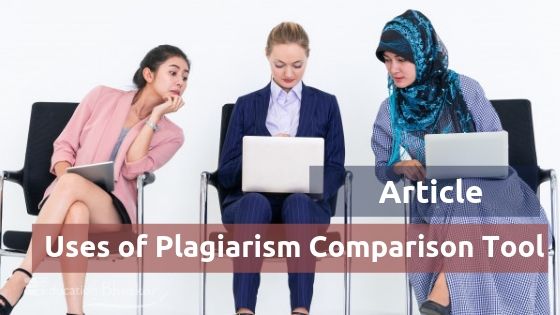 Core stages to perform document comparison for plagiarism
Plagiarism checkers are simple to use and most of these tools have a simple interface. Most users find the options quite easy. Here are the core stages you need to complete while going through the compare document plagiarism process.

Insert the text to be checked
A high standard plagiarism checker scans the content inserted. One way of content insertion is pasting the text. Simply copy the text which has to be checked in the given text box. Some tools do offer the alternative to upload a document directly. When the text has been inserted, you can proceed to the next step.
Checking content
When the text to be checked has been inserted, you can move on to the next step. Simply click the "check" button and the tool would read through the written content. If the content has any copied sentences, they would be shown to you. You need to rephrase the highlighted sections until no signs of plagiarism remain. This method of check content for plagiarism is much faster and more productive than manual proofreading.
100% error free content
The content of an assignment has to be 100% plagiarism free. In other words, each line should be original. If you use the tool once and see that some lines have been copied, you need to use it again. The process should be repeated until no sections of the content are shown as plagiarized. For academic assignments, students cannot afford to make any mistakes. If you even submit one copied line, the entire assignment would be rejected. A high standard plagiarism tool assists students in can producing original content and getting the best grades. In addition to that, you do not have to use any time or effort for proofreading. The plagiarism checker tool would do everything for you.
Easy to use tools
A lot of people have the opinion that software tools are complicated and a lot of time is required to learn them. This is not a fact for every tool. For instance, if you talk about plagiarism checking tools, they are simple to use. After following two or three simple steps, the written content would be checked completely. Other than that, you do not need a lot of memory to install these tools. This is because these tools are online.
Give due credit to the actual author
Do you know that accessing information as a source is very different from copying it? If you think that a website is dependable, do not copy information from it. Instead, you can rephrase the written content so that it does not seem copied. In this way, due credit would be given to the actual author who works extremely hard to prepare the content. Preparing content on any topic or domain is not an easy task by any means. A number of details tasks including concept research, content development and content compilation are involved. If you have rephrased the content properly and a link to the actual source has been provided, it means that due credit has been given to the author.
Take no chances
 Grading an assignment is not a short simple task. Teachers and supervisors check each and everything including plagiarism. Teachers also use quality plagiarism checking tools so that no risks are taken. Using a tool is getting confirmation about the originality of content. In other words, you would not have to be scared or nervous before the assignment has been submitted.
Even if you have the time to read each line of the assignment before submission, it is a risky option to take. Consider that the assignment has a length of 5000 words. It would be a cumbersome procedure to see each line and then match it with the corresponding source used. Even if you are an efficient reader, several hours would be needed to read the assignment completely. There is no reason to make so much effort when you can use a plagiarism checker for proofreading. These tools are dependable and save time for students.
Conclusion
Plagiarism is a big issue and lack of awareness worsens the situation for students. Copying content is a serious offence and students who are involved in it face rejection as well. Thus, it is important to get assurance that the submitted content is 100% original. Using a plagiarism tool is the best option for this task. Simply paste the content in the text box given or upload the document which has to be checked. Each line which has plagiarism would be highlighted. After that, simply rephrase the content so that all copied sentences are removed.
Working on an assignment efficiently means that you have to meet deadlines. Teachers and advisors are very particular about deadlines. Using a plagiarism checker helps in saving precious time. Secondly, students get complete assurance that there are no originality problems with the content.