Verification Schedule Newly Selected 9870 JBT/PRT Teachers 2014 Haryana HSTSB
Verification Schedule Newly Selected 9870 JBT/PRT Teachers 2014 Haryana HSTSB  (under HSTSB Advt. No. 02/2012) at harprathmik.gov.in (Time Table) Technical Verification| Update New
So finally Directorate of Elementary Education, Siksha Sadan, Haryana has issued the much awaited Technical verification schedule for 9870 Newly selected PRT & JBT Teachers (Advertisement No. 02/2012 & categories No. 1 and 2. All the selected candidates are invited for the verification of Thumb Impression, Signature and photos. This notification has published in order to follow the directions of Ho'nable High Court of Punjab & Haryana's orders in CWP 12938/2012 dated 06.08.2014 – Mahasingh Bhurania Vs Haryana Government & Other.
All the concern Candidates are required to come with the Adhaar Card as ID, if any candidate does not have the Adhaar Card, they need to come with any Government Identity Card i.e. Driving License (DL), Passport, PAN Card with 3 latest Passport sized photos (Without Spectacles) and required to present according to the scheduled date at Adhyapak Bhawan situated in Board of School Education, Haryana campus (Bhiwani).
In the News: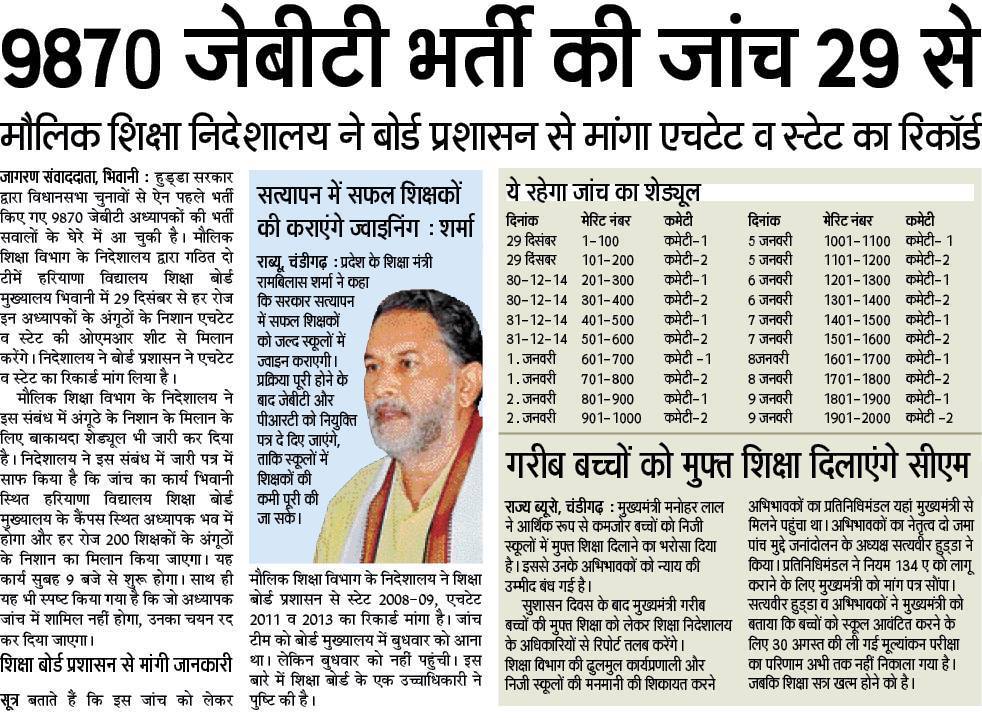 If any candidate found to fails to verify their Thumb Impression, Signature or Photograph or not reached according to schedule, will be eliminated/rejected. 

JBT/PRT Teacher verification Schedule -All Districts other than Mewat:-
Address for Verification: Adhyapak Bhawan, Board of School Education (BSEH), Bhiwani Board, Haryana
Time to reach: 09:00 AM
(Update) 2nd Verification List :-
Schedule of taking thumb impression and signature of selected candidates on
PRT post in compliance of Hon'ble High Court order dated 16-8-2014 in CWP No. 12938/2014 Maha
Singh Bhurania Vs. State of Haryana & others.
Click Here to Download HSTSB PRT JBT selection Merit List 02/2012 (Haryana)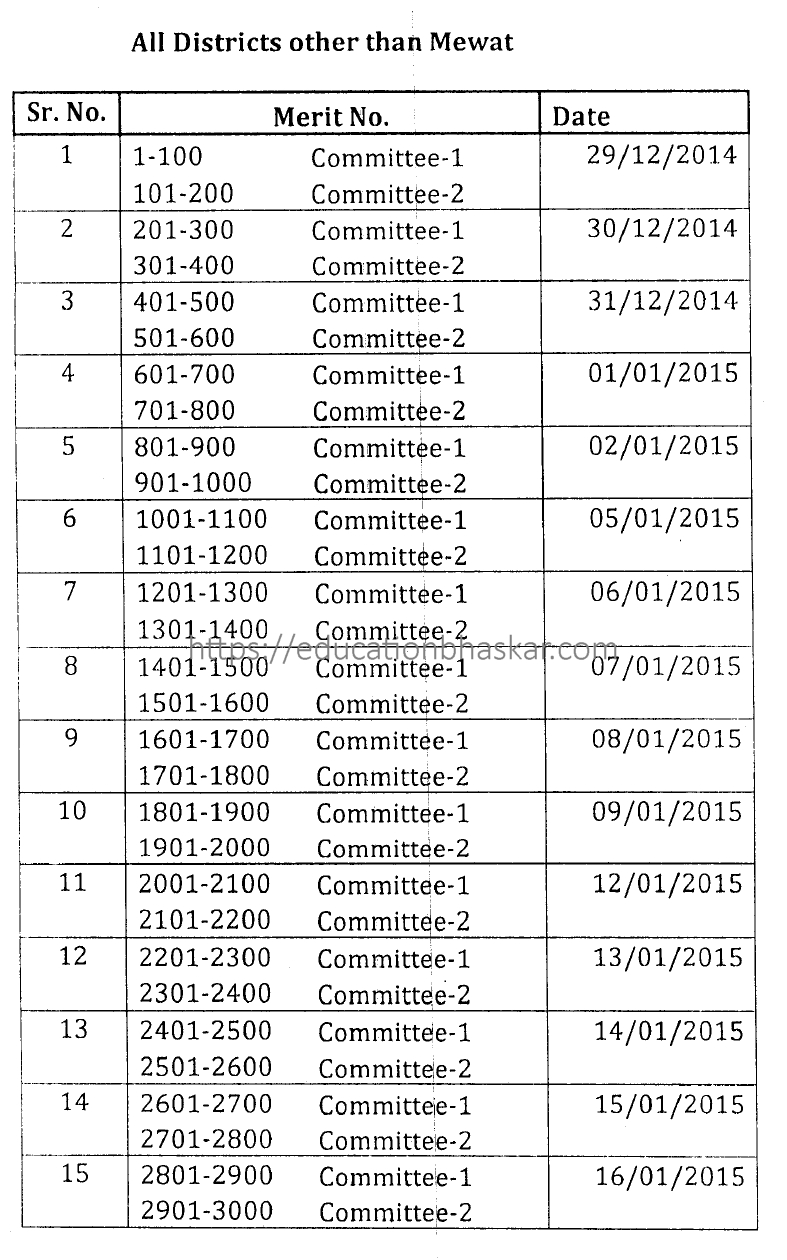 This is much awaited Technical verification schedule from last two years. In 2012, Government had released the Notification of 9870 JBT/PRT recruitment under Advt. No. 02/2012 and after result declaration the selected candidates are waiting for this moment from long time. 
Click Here to View the Official Website: harprathmik.gov.in/
If you found an error, highlight it and press Shift + Enter or click here to inform us.