Territorial Army Open Bharti 2014 Soldier Recruitment Ludhiana Punjab
18 August, 2014
Comments off
Territorial Army Open Bharti 2014 Soldier Recruitment Ludhiana Punjab 
The Indian Territorial Army Office is going to conduct the the Territorial Open Bharti (Recruitment) for Territorial Army. This Recruitment is going to held from dated 25th August, 2014 to 30th August, 2014 in Ludhiana (Punjab). All the Keen & Strong candidates of Haryana, Punjab, Himachal Pradesh, Jammu & Kashmir and Chandigarh are eligible to apply.
The complete detail regarding to the Army Open Bharti 2014 Recruitment is as follows:
What is Territorial Army:
The Territorial Army in India (commonly referred to as TA in India) is an organization of volunteers who receive military training for a few days in a year so that in case of an emergency they can be mobilized for the defence of the country.
It is a second line of defense after the Regular Indian Army; the Indian Territorial Army is not a profession, occupation or a source of employment. It is only meant for those people who are already in mainstay civilian professions, in fact, gainful employment or self-employment in a civil profession is a pre-requisite for joining the Territorial Army.

Job Highlights:
The Army is going to recruit the vacant position of Soldier (General Duty), Washerman, Hair Dresser and Chef.
Eligibility Criteria:
Educational Qualifications:
For Soldier (GD)- Should have passed Matric with minimum 45% marks from any recognized Board.
For Washerman, Hair Dresser and Chef- Should have passed Matric from any recognized Board as well as having good skill in his trade.
Age Limit: To be an eligible candidate, age sholud be between 18 years to 42 years. Minimum age 21 years for married man as on the date given in the notification.
Important Dates & Place:
This  recruitment process will be held at:
103 Paidal Vahini (Territorial Army) Sikhlai,
Dholewal Military Complex,
Near Sherour Crossing,Behind of Guljar Motors,
Ludhiana (Punjab).
The complete schedule are as under-
Dates for Recruitment-25th August, 2014 at 7:00 AM  –  For candidates of Himachal Pradesh and Punjab

Dates for Recruitment-26th August, 2014 at 7:00 AM  – For candidates of Delhi ,Jammu & Kashmir and Chandigarh.

Dates for Recruitment-27th August, 2014 at 7:00 AM –  For candidates of Haryana.
For more detailed information about the Indian Army Open Bharti 2014, read the advertisement published on 17.08.2014.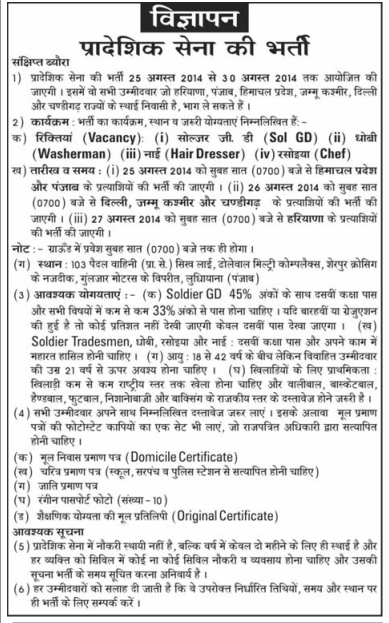 Like Education Bhaskar.com Articles ? Get Free Updates in Email Inbox
Need Any Help or have problem
Need Help :
Dear Members, If you need any kind of Help, wanna share any information regarding to the any topic, pleaseput your views in comment box below. We promise, we try to help you... Be in touch with us :To get every activity by educationbhaskar.com realted to education news, jobs, exams etc. please enter your email address in box below: We wish you Good luck for your Selection !!!