HTET News 2015- Aadhar Card and Online Exam & Applications
HTET News 2015- Aadhar Card and Online Exam & Applications |htet.nic.in Dates , Pattern |
Hello HTET Aspirants, there is an other news regarding to the 'Haryana Teachers Eligibility Test' that from this Aadhar Card may be compulsory to be eligible for this test this year. According to the new, the suggestion of Adhar Card has been forwarded to the Haryana Government  by the Board of School Education Haryana (BSEH). HBSE is the conducting organization of this test in the state. 

According to the statement of the Secretary of the board, Mr. Pajkaj, this system will be in existence/effective after  consent from the state government. This system will be beneficial  in sorting out the problem of matching the thumb impressions.
HTET exam & applications will be Online as well Offline:
 According to another news, the HTET applications may be online as well as offline form. With that HTET Exam will have both options for applicants -Online and Offline Test. Although this is still in the news and the suggestion is already forwarded to the conducting body and Government. They both have to decide.  Haryana TET is also trapped in the cage of Fraud since it came in 2008. In some cases, when when the thumb impressions were being checked, it is found that there were impressions of the toes.
Central Teacher Eligibility Test (CTET) and many more other state level TET is already being conducting Online and inviting online applications. On that basis BSEH is also thinking to apply this system in Haryana too. 
The investigation is on in case of Recruitment of teachers in 2010 and 2013. So far 1058 cases have been revealed in this connection.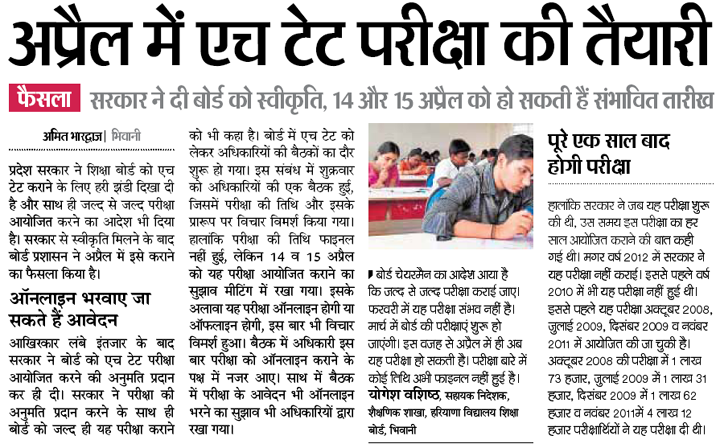 HTET may be held in April 2015 -Dates & Pattern
According to the official sources, Haryana Teachers Eligibility Test might conduct in month of April. Exact dates have not decided. Pattern may be same.
Official Website: http://htet.nic.in