CTET February 2015 final Answer Key All SET (Paper I, II) ctet.nic.in CTET Answer Key
CTET February 2015 final Answer Key All SET (Paper I, II) ctet.nic.in | Download PDF Question Paper with Solutions and CTET Answer Key |
Central Teacher Eligibility Test is going to be organized on 22nd February, 2015 at the various exam centres throughout the India. A lot of candidates have appeared in this CTET exam. As usual CBSE is the conducting body and after the exam it uploads the answer key for the appearing candidates by which all the candidates can match their answers with questions, they have marked.  The CTET Answer Key also prepared by some experts who is running top TET training or coaching centres/institutions.
Final Answer Key for CTET February 2015 exam is available in 2 Papers and 4 SETs:
Paper I  (Paper Code SET M, N, O, P)

Paper II (Paper Code SET Q, R, S, T)
Click Here for :- CTET February 2015 Notification www.ctet.nic.in Online Application form
Download CTET February 2015 Answer Key:
Here are the step to step guide that how can any candidate can download Answer Key 2015:
Go to the Official page of CTET i.e. www.ctet.nic.in as showed in the screen below:

  Now after scrolling, at the end of page from left side, you will find the download section.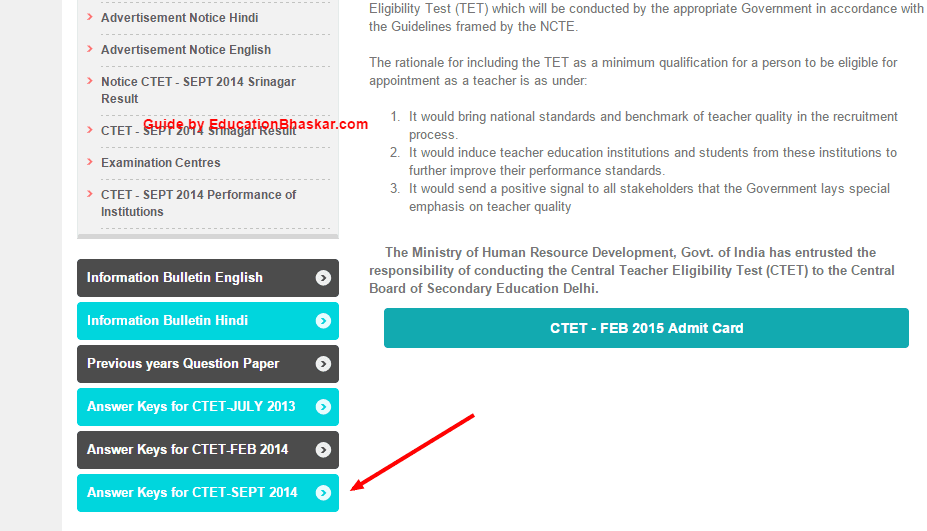 Here link will the label 'Answer Key for CTET – FEB 2015, will appear. Click on the link and choose your subject and paper code.

PDF file will open, right click on the page and save as to download the full answer key to your system.

 Now you may match the answers from the Answer Key.
About Central Teacher Eligibility Test (CTET):
Central Board of Secondary Education(CBSE) is the conducting body of the Central Teacher Eligibility Test. This exam is compulsory for those candidates who wish to make their career in Teaching line for primary and secondary classes in Government sector. CBSE conducts the exam in 2 papers-Paper I and Paper II. On the basis of classification and applicants choice,  who will qualified Paper- I will be eligible to teach class I to V whereas who qualified Paper II will be eligible to teach class VI to VIII.
Official Website: ctet.nic.in
All the very best from Education Bhaksar Web Portal and Stay Tuned !
If you found an error, highlight it and press Shift + Enter or click here to inform us.
Like Education Bhaskar.com Articles ? Get Free Updates in Email Inbox
Need Any Help or have problem Dear Members, If you need any kind of Help, wanna share any information regarding to the any topic, pleas write your opinion in comment box below. We promise, we try to help you... Be in touch with us :To get every activity by educationbhaskar.com realted to education news, jobs, exams etc. please enter your email address in box below: We wish you Good luck for your Selection !!!